Posted by By Leigh Ann Pernell on Mar 12th 2021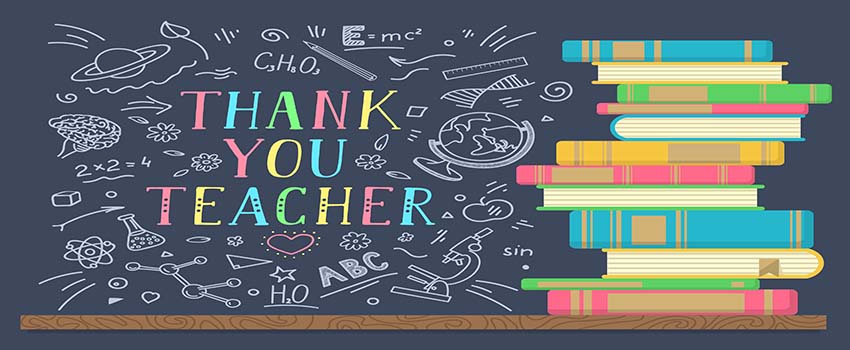 This school year has been a challenge, so let's make sure we take the time to honor the educators who have been working to keep learning alive during the pandemic pandemonium. Teacher Appreciation Week begins May 3rd and is a great time to let those on the frontline know how thankful we are for their dedication to our young scholars. Whether your child is learning in the physical classroom or the virtual one, here are a few ways to show your appreciation to those devoted educators who inspire a love for learning.
Share Student Creations
Have children create notes and pictures and email them to their teacher/s or post them in their Google Classrooms. It can be incredibly heartwarming to log into your email and find an encouraging message or creative piece of artwork that was handcrafted especially for you.
Create a Teacher Wish List
Encourage educators to create and post a special Wish List featuring materials that enhance and support their teaching. Teachers often use their own funds to purchase books, markers, games, wipes, manipulatives, art supplies, and other enrichment materials. Sending these items to your child's teacher can give them a genuine boost.
Send (Local) Gift Cards
Sending gift cards from local bakeries, coffee shops, restaurants, or specialty boutiques not only celebrates your child's teacher, but also supports local businesses. These thoughtful cards can provide hard working teachers with an opportunity to treat themselves in new and special ways.
Deliver a Meal
Make the evening a little more relaxing by having a meal delivered. Most educators head home with a bag filled with their own homework, so having dinner prepared and ready to go can be a big help. Restaurant gift cards can be a huge plus, too! Your child's teacher can tuck those away and put them to use on a busy evening.
Organize a Drive-By Celebration
Get kids and families together and to drive passed the school with banners and signs of appreciation flying in the wind out the car windows (or truck bed). Honk the horns, wave your banners, and celebrate your teachers with an honorary parade.
Tag the Teachers' Cars
Place notes of gratitude on the windshields of each teacher's car at school. If you have an industrious group of hard working volunteers, you might even clean the windshields in the school parking lot.
Donate to a Charity
Teachers have hearts dedicated to service—so donate in their behalf to a specific charity. See if there is an organization that your child's teacher holds near and dear and give your donation in honor of that special educator.
Speak a Kind Word of Thanks
Words of affirmation go a long way, so don't sell them short! We all can use an encouraging word to keep us going, so share a few choice words that will build your child's teacher up. Share how your child has been inspired and in what ways their teacher has made a difference for your young learner. Kind words that come from the heart are empowering!
Give a Living Plant
The beauty of a living thing can (literally) breathe fresh air into the classroom. Cut flowers are always lovely, but a living plant can continue to thrive and provide a beautiful memory of your child each time it's watered.
Design a Teacher's ABC List
Educators are Awe-inspiring, Bright, Caring, Dedicated, Empowering, Fascinating, Generous, Helpful... you get the idea. Create a list of alphabetical descriptors that highlight the characteristics you value in your child's teacher.
This COVID climate has definitely made the school year more challenging than usual. The good news is that even a pandemic cannot stop a curious child from learning or a dedicated teacher from teaching. This is an opportune time to let educators know that they are appreciated for being catalysts that spark lifelong learning. Thank you, teachers!