Posted by Leigh Ann Pernell on Dec 1st 2022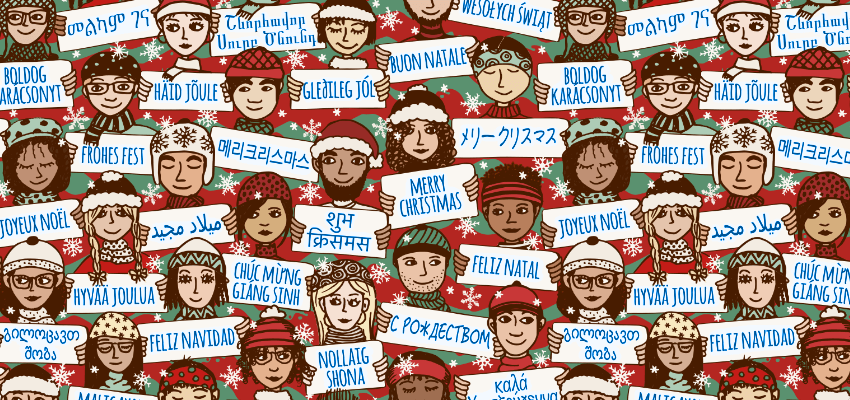 Can you feel it? It's that electricity that is sparking through our classrooms as the many winter holidays around the world draw near. There is a definite excitement that can be seen, felt and heard, so channeling that energy in a positive way is a must if we are going to make it to winter break!
One way to engage our students during this festive time is through the exploration of multicultural holidays. The study of these diverse cultural celebrations can be easily integrated into literacy, math, social studies, science and art activities and provides a meaningful way to recognize and celebrate diversity during this holiday season.
Celebrating cultural diversity with winter holidays like Kwanzaa, Hanukkah, Fiesta de Guadalupe, Christmas, St. Lucia Day, and the Chinese New Year are just a few of the cultural celebrations that allow you to incorporate fun and multicultural winter festivities in the classroom. Here are just a few ideas to get you started:
Take a mini trip around the world.
Create a mini passport and explore places like:
France and visit with Pere Noel. Make sure to sing carols and put out your shoes, so Pere Noel can fill them with goodies.
Italy and learn about La Befana, a kind witch who is looking for baby Jesus.
Mexico to celebrate Las Posadas and the Fiesta de Guadalupe.
Germany and create a gingerbread house and get ready for Christkind (a kind angel) to bring gifts.
Israel and celebrate Hanukkah by lighting a Menorah and enjoying some potato latkes.
Sweden and celebrate St. Lucia Day by serving your family sweet treats.
India and explore the Hindu Festival of Diwali with lights and delicious goodies.
USA and learn about Kwanzaa as you light your Kinara and celebrate African American traditions.
China and explore the animals that represent the Chinese Zodiac as you prepare for the New Year. In China, 2023 will be the Year of the Rabbit.
Have a tasting party.
Food is an important part of all cultural celebrations. Have students sign up to bring in special foods that represent a variety of the many cultural celebrations. Enjoy a potato latke as you explore Hanukkah, have students decorate Christmas cookies, create a taco stand to honor Fiesta de Guadalupe, and more.
Decorate your classroom with DIY crafts.
Commemorate each important holiday by practicing inclusivity for winter holidays with winter classroom decorations that speak to each celebration and culture.Here are a few ideas:
Make ornaments that represent holiday characters like Pere Noel or La Befana.
Fashion gingerbread houses as a special German treat or create a pickle ornament that brings good luck to the first child who finds it.
Design a poinsettia wreath and have a concha (Mexican sweet bread) treat.
Make dreidels for Hanukkah.
Create an accordion book for Kwanzaa—a standard gift during the 7-day holiday.
Engineer a St. Lucia head wreath out of construction paper for the kids to wear to welcome in the holiday season.
Make lanterns and paper dragons to decorate for the Chinese New Year.
You can also decorate your classroom with holiday bulletin board borders, or create an inclusive environment that celebrates diversity with classroom décor like the Our Strength is Our Diversity Bulletin Board Set. There are so many fun and creative ways to bring each celebration to life in your classroom!
Celebrate while learning with free multicultural holiday worksheets.
With so much to celebrate, multicultural winter holiday teaching resources can get pricey, so have students enjoy free multicultural holiday worksheets that make learning fun! Practice critical thinking and phonics skills with a Christmas, Hanukkah, and Kwanzaa Words in Words activity, practice graphing skills with free Kwanzaa and Hanukkah hidden pictures printables, and more.
This is such an exciting time of the year all over the globe, so let's take advantage of it. The study of diverse cultures broadens our knowledge of the world around us and also provides us with a great opportunity to compare and contrast cultural traditions and the people who share them. Creating respect for diversity is a strength that will help our students become cooperative learners and respectful world citizens. As we have fun exploring, we can help our children channel their energy with engaging activities and build awareness of how much more we are all alike than different. Here's to a wonderful winter holiday season!