Posted by Bethany Barr on Mar 30th 2022
Let's be honest, teachers LOVE a good classroom theme. We love to walk into a classroom and see bulletin boards that match the colors of book bins, or an alphabet line that has the same pattern as a calendar wall nearby. We can't help but love a cohesive look where everything seems to flow and belong. Why? Because when a classroom looks and feels put together, it becomes a welcoming learning environment where students are engaged and excited to learn from you.
Whether you're a new teacher ready to create the classroom of your dreams or a veteran teacher looking for a refresh in your current space, I will be sharing my top tips for selecting décor that you and your students will love.
Before Décor
Before breaking into the décor options, I always suggest simply sitting in your room to consider your space and the students you will be teaching. Some of the first questions to ask yourself are:
How do I want to use this space? (Will we be meeting around certain areas? How will they move around the classroom to get to the library or writing center?)
What will I be teaching? (How old are my students? What will we be covering in the curriculum?)
Define Your Design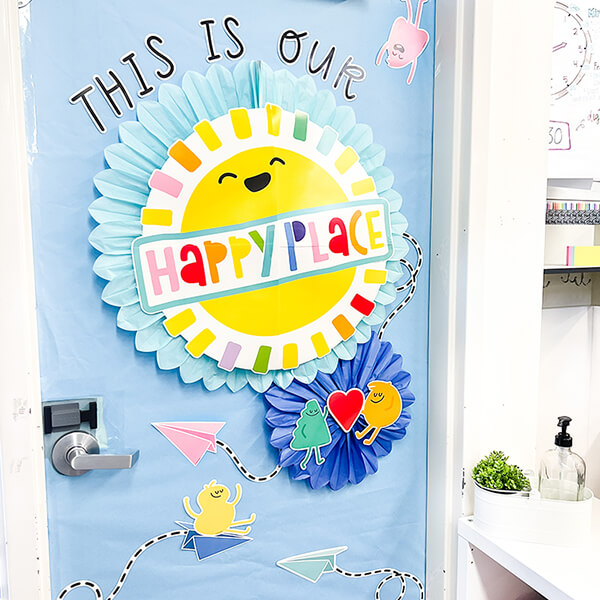 The way you set up and decorate your room plays a huge part in creating a welcoming learning environment. So the big question is, should you choose a classroom theme or decorate around a color palette? Both have their advantages and can be effective to your learning space. Let's take a look at both:
Décor Theme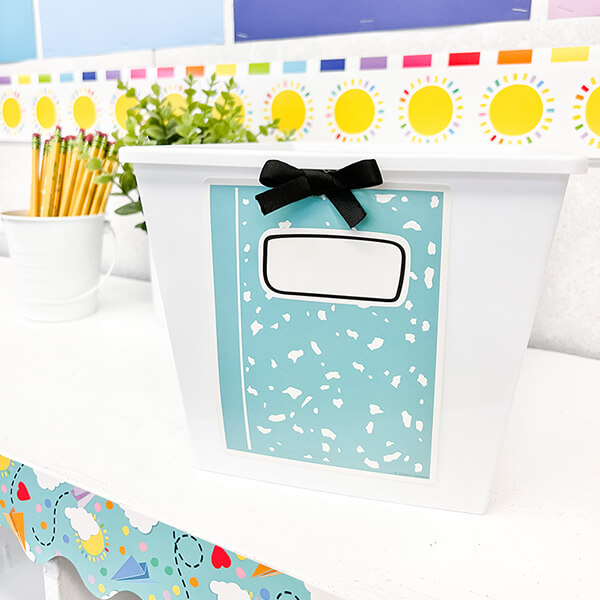 Perhaps you are teaching social studies, so you are interested in the "Let's Explore" travel classroom theme to showcase what you will be learning and to share your love of traveling around the world with your students, or simply want to create an adventure classroom that inspires learning adventures. Maybe your personal style tends to lean towards boho neutrals or sunset colors, so your are wanting to select Schoolgirl Style's "Simply Safari" collection knowing the neutral safari classroom theme will be an added bonus for your primary aged students that love animals. Choosing a classroom décor theme collection is a great way to spark interest and curiosity in your students, while also reflecting who you are as a teacher.
You will create a cohesive look with a theme by using the same characters and accents throughout your classroom. Additionally, there are so many creative ways you can bring a theme into your classroom environment and lessons, such as catchy bulletin board titles or team names.
Try This: While shopping for borders, accents, posters, etc., be sure to check out photos of other teachers using the collection. There is nothing better than being inspired by real classrooms, and Carson Dellosa has tons for your to look through.
Color Scheme
If you're not sure if a theme will suit you, try working with a color palette instead! This is a great option if you like to update your room year-to-year for that fresh feel. It is also a great option if you are hoping to work with what you already have.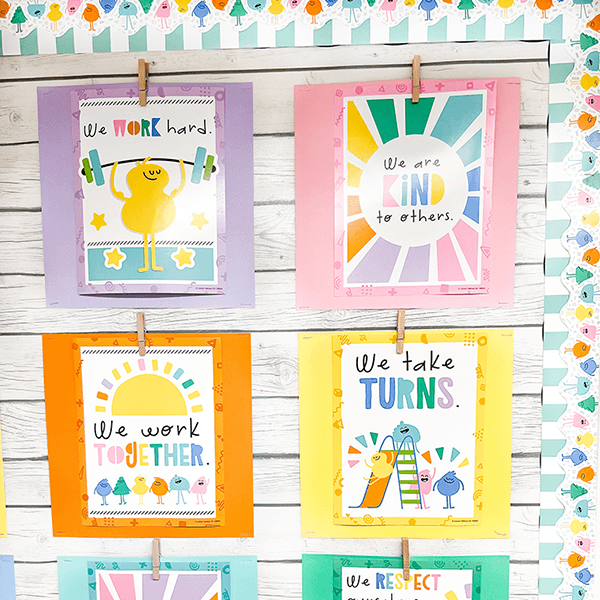 This is the route that I took when decorating my classroom. My personal style tends to lean towards neutrals, however, I know that my first grade students like rainbow colors classroom décor. When creating their learning space, I chose to stick to black and white classroom décor with little pops of primary color (alternatively, if you prefer to stick to a classic all black and white classroom, the Farmhouse classroom décor collection features black and white designs with hints of greenery that will create the perfect modern farmhouse classroom!). When mixing the two color schemes together, however, I found the perfect balance in the Happy Place colorful classroom theme! This classroom décor line allows me to mix both the bright, primary rainbow colors that my students love, while complimenting the black and white color palette that I enjoy. If you tend to lean towards the bright rainbow décor too, try incorporating something like Schoolgirl Style's Light Bulb Moments colorful classroom decorations for an array of colors and unique designs.
When selecting the colors you want, start with your neutral palette for your walls and add pops of color in your bulletin borders or areas you want to accent. you do not have to go overboard on the pop colors for this to be effective.
Pro Tip: Take a piece of your border with you to color match as you shop. Was I that teacher who was holding up a rainbow border to scrapbook paper? Absolutely! Having this with you will be your guide and help you stay focused when decorating.
Make it Meaningful
Whichever décor route you decide, make it meaningful! Remember, you do not need to have every part of your classroom decorated to have it be an effective learning space.
Try This:
Create a focal point wall to showcase student work. Leaving space for student work gives them a sense of ownership and belonging in the classroom.
Make a bulletin board that states learning objectives or classroom rules.
Finally, enjoy the process! Selecting and setting up classroom décor is exciting. Possibilities are endless with all the options for themes and colors you can work with. Don't be afraid to try doubling or even tripling bulletin board borders; you can always adjust. Trust yourself—only you know what is best for you and your students. When sticking to these tips and following your intuition, you'll be sure to create a classroom environment that you and your students will love.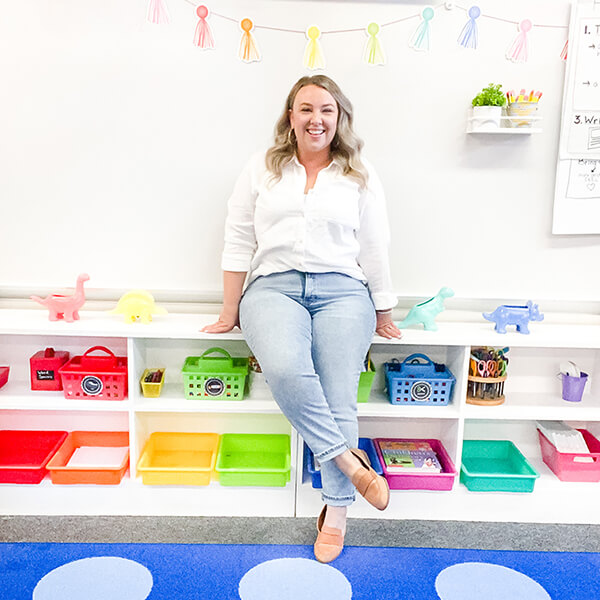 Bethany is a TPT author and 1st grade teacher in California