Posted by By Hallie Gebel on Aug 28th 2020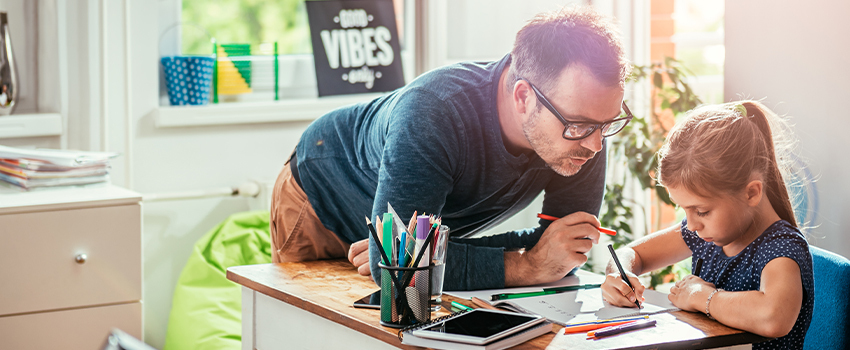 As teachers and parents, we're all feeling overwhelmed by the effects of COVID-19 on our everyday lives. However, supporting learning and keeping a sense of normalcy and routine for our kids and students is important, especially during sudden school closures. As schools and educators work to adapt and create distance learning programs, parents are tasked with juggling many uncertainties, including work situations and basic needs, all while trying to keep their kids engaged with learning outside of the traditional classroom setting.
While this reality won't be easy, the silver lining is that there are tons of resources to help teachers and parents navigate the unfamiliar road ahead. Luckily, we've compiled must-have teaching and learning materials to help if you find yourself challenged to create an organized homeschooling environment without a dedicated homeschool room.
Ever-so-appropriately titled the Learn At Home Organization Kit, you can now enjoy our hand-selected, 10-piece collection that includes the essentials needed to create an organized and inspiring workspace for your child. Designed with educators' day-to-day needs and parents' efficiency anxieties, this space-conscious bundle of popular products helps to instantly instill a strong classroom routine into the home.
From notepads and pocket charts to stickers and file folders, this collection includes everything you need to create a beautiful, functional, and focused workspace. Dealing with school closures and the possibility of home and distance learning is enough of a worry, but with this affordable (and oh-so stylish!) set, it's more manageable.
With the Deluxe Scheduling: Gold Polka Dot Pocket Chart and Deluxe Calendar: Black Pocket Chart, you can easily establish daily routines, break tasks into chunks, and display a schedule that helps your child anticipate what's next while teaching calendar and time management skills.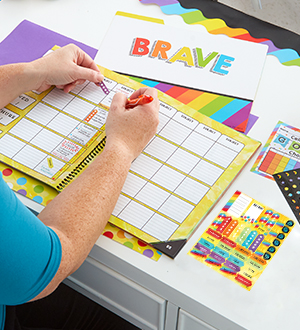 With the comprehensive Celebrate Learning Teacher Planner, you can totally tap into your parent-to-teacher powers with weekly and monthly planning spreads, grade logs, goal-setting prompts, and more. Plus, it includes standout stickers to draw attention to your most important tasks.
There's even a way to provide positive reinforcement to motivate your child to stay on track with their studies with the Celebrate Learning Mini Incentive Charts and Celebrate Learning Motivators Motivational Stickers! You can track their educational growth and get your child excited about a new milestone when they add a new, colorful sticker to the chart.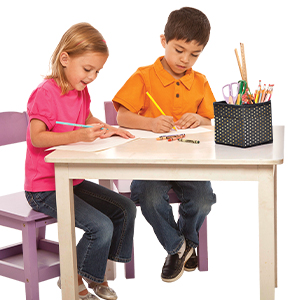 It comes down to the little things when preparing for a new learning landscape. That's why we have also added the teacher-favorite Tabletop Storage: Black with Gold Arrows Pocket Chart which puts all of your child's supplies neatly stored and ready for whatever task they want to accomplish, without them having to ask for help. You will also love the vibrant Celebrate Learning File Folders and additional organizational stickers to help you sort papers and strategize daily activities.
While it's undoubtedly a stressful time, it's also an opportunity! With more time at home, talk to your child about their strengths, the importance of education, outside interests, and areas where they might need support. One of the positive things that can come out of this situation is that parents will get a closer look at how their children are progressing. With this information, teachers and parents can partner together and support the learning of future generations.