Posted by By Payton Dockery on Feb 22nd 2022

While it may not be the most important decision you'll ever make, determining your classroom theme is certainly an important part in the life of a teacher. Some teachers like to pick a theme and stick with it throughout the years, while others like to change their theme annually. Whether you're the yearly decorator or not, there are always a few things to consider when choosing your classroom theme. Here are some of the main things to keep in mind:
Is this theme something that you would want to look at day after day?
While a lot of themes are very cute and bright, you need to consider what you can handle for your personality. Consider if the theme is something you will want to see when you look around your classroom each day. First and foremost, you want your classroom environment to be something that you are proud of and that makes you happy each time you step foot into it. Using décor that inspires cheerfulness and positivity in the classroom, such as from the Kind Vibes collection, can provide the positive energy and inspirational messages to encourage your students every day.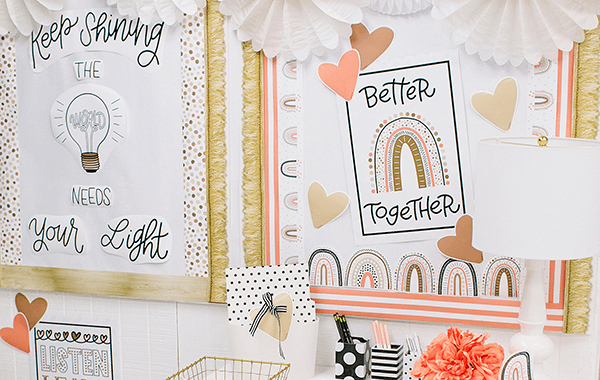 While the vibrant colors are incredibly enticing and engaging for young students, some teachers may look for a more modest approach to designing their classrooms. The ever-popular Simply Stylish décor line pairs classic classroom patterns with engaging colors to create a stylish learning space that both teachers and children love. This theme also includes posters, bulletin board sets, and more with motivational statements like "Keep Shining" and "Better Together" to help create a supportive learning environment for students.
Is this the environment that you want to set for your students?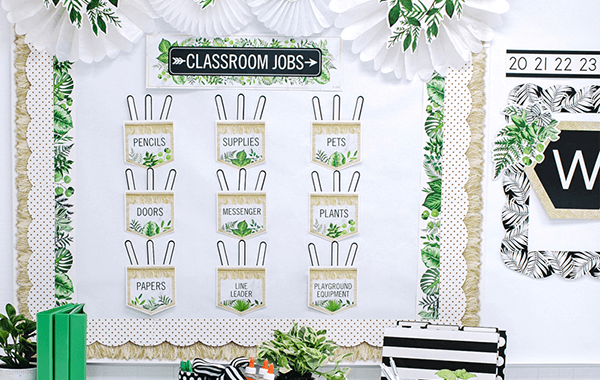 Another thing to consider is your students. Think about the age of your students and decide if the theme is age-appropriate. You should also think about your student population—some students can be distracted by overly colorful or complicated themes. Make sure your décor adds to—and doesn't detract from—your students' classroom experience. Incorporating décor from the Simply Boho collection features lively greens and natural patterns and tones to create a chic and tranquil learning environment that students will feel relaxed in. This collection is engaging without being distracting, and perfect for all ages!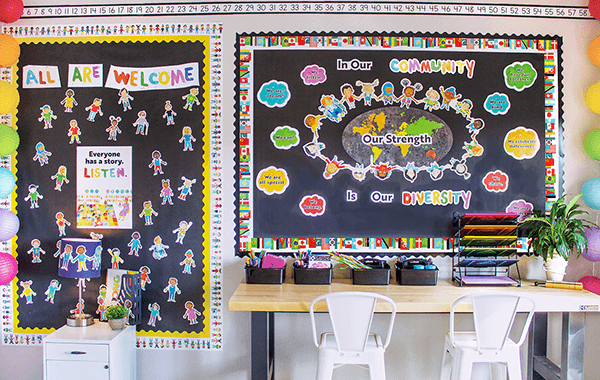 In addition to this, creating an inclusive and welcoming environment for students is also important, and can be encouraged with décor that celebrates kindness in the classroom. The All Are Welcome classroom décor line promotes a classroom of inclusivity and diversity, two very important traits to instill in young children. These colorful images, taken from the New York Times bestselling picture book All Are Welcome, set a positive tone for students and create an accepting atmosphere while using illustrations from a children's book that students (and teachers!) love.
How many products are actually available for the theme that you're interested in?
Look at the collection and see what it offers. Some themes feature everything from large and small bulletin board sets to name tags, stickers, and more, while other themes have limited offerings. Decide if you want to have access to everything in your theme being pre-made, or if you are willing to supplement your décor with a complementary theme or by making things yourself.
Understandably, having to make all of these decisions for your classroom can be a little overwhelming. If you're looking for a theme with a little bit of everything in it that checks most of your boxes, the Black, White, & Stylish Brights collection stays true to classic classroom themes while providing a wide variety of décor that range from stylish borders and bulletin board sets to chic, motivational posters—all while adding fun pops of color to create an environment kids will love to learn in.
What are you willing to spend?
As teachers, we are notorious (myself included) for spending a lot of our own money on our classroom. Look at your budget and realistically decide how much or what kind of décor you can afford. Don't go into debt over it! However, don't settle for something you aren't happy with just because it's "on sale." Make sure you keep a nice balance.
Overall, picking a classroom theme should be a fun experience. From vibrant colors and exhilarating designs to neutral shades and friendly characters, there is something for every classroom (and teachers). With endless collections and products to choose from, creating the ideal learning environment for you and your students has never been more fun.
Payton is a 4th grade teacher from North Carolina and is also a Carson Dellosa Education Brand Ambassador.