By Casey S. on Jul 22nd 2019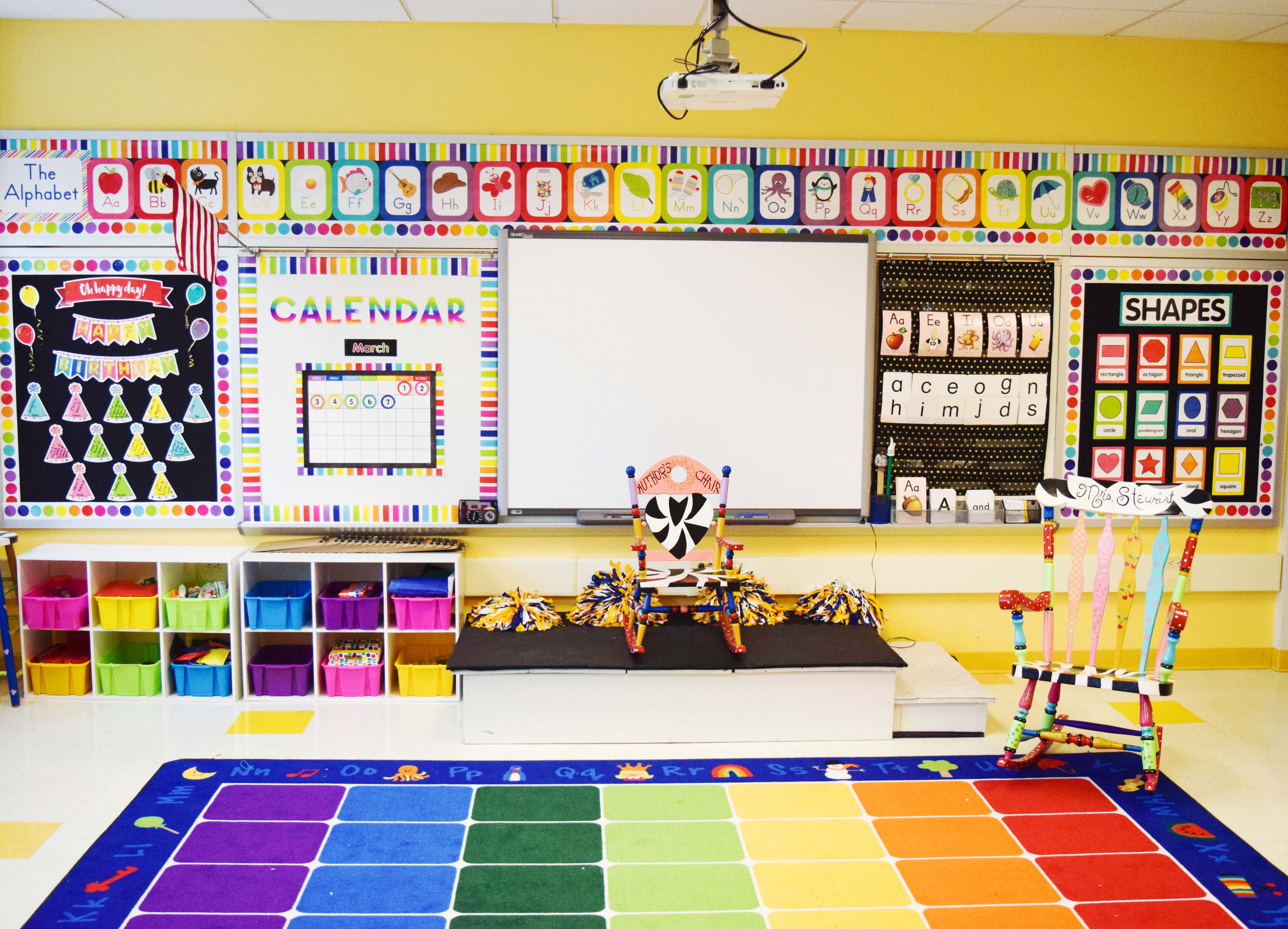 Whether you are a new teacher decorating your classroom for the first time or you're a seasoned veteran looking to spice up your space, choosing a classroom theme can be a tough decision. Here are my top tips for choosing a theme to fit your style—your "Schoolgirl Style"!
Work with what you have.
My number one tip is to work with what you have—whatever you've already invested into your classroom. Over the past five years, I've purchased rainbow and neon items a little bit at a time. My center bins and baskets, along with my hand-painted rocking chairs, add a pop of color to my kindergarten classroom. I also have a beautiful rainbow rug that was a donation from my PTA this year.
Get social!
Connect with fellow teachers who share your interests and bookmark your favorite classroom décor posts. Instagram is my favorite social media platform for sharing ideas. I highly recommend creating a separate Instagram account for your teacher-shares—as many of your non-teacher friends most likely aren't interested in seeing how fabulous your latest bulletin board turned out!

I love scrolling through my teacher-Instagram account for a few minutes each day to see what other teachers around the world are doing in their classrooms. I began to follow Melanie Ralbusky of @schoolgirlstyle on Instagram while I was on maternity leave last school year. If you aren't already following her, you need to. Her posts are so inspirational, and her classroom photos are simply amazing! I knew that I wanted to choose one of her collections to decorate with when I headed back to the classroom last August.
Set a budget and stick to it!
While keeping your budget in mind, create a wish-list and prioritize which items to purchase first. Begin with the essentials and add as you go. My must-have items for kindergarten include a calendar set, a birthday bulletin board, and number posters.
Go shopping!
Shop a variety of online collections—select a theme that suits your style and is appropriate for your grade level. Carson Dellosa Education and Schoolgirl StyleTM have so many beautiful classroom décor collections for all grade levels—it can definitely be hard to choose!
Keep it simple, sophisticated, and purposeful.
Try not to go overboard. The goal is to create a cohesive, clutter-free environment with meaningful products that will enhance your students' learning experience. Remember to leave blank space for your students' work to be displayed.
So, which theme did I choose? I decided to go with the beautifully designed Just Teach collection by Schoolgirl Style. Its color scheme was exactly what I was looking for, and the products are absolutely perfect for my kindergarten classroom. This collection includes all of my must-have essential items: number posters, a birthday bulletin board, and a calendar set. The new magnetic numbers are a dream come true! I used the rainbow dot and rainbow striped borders throughout my room with a black fabric background.
Selecting a classroom theme that suits you best will help make your space a place where both you and your students will love spending the day. So, are you ready to get Schoolgirl Styled? Carson Dellosa is here to help!
View all the beautiful Schoolgirl Style collections!