Posted by Jenna Cicero on Aug 23rd 2022
You've done a read-along, now how about a write-along?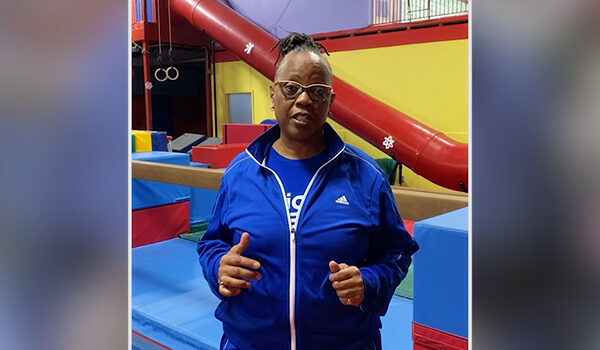 This season, join award-winning author J.P. Miller as she creates her latest Leaders Like Us title featuring a Black leader who YOU helped choose! The votes have been counted, and gymnast and gold-medal winner Gabby Douglas will be the subject of J.P.'s next title in the Leaders Like Us series.
Understanding how to research a subject is an important skill for a writer. Knowing where to go, what to look for, and who and what to trust is an important skill when learning about anything. Join J.P. at her favorite local learning destination (the library!) to find out more about how she researched her new Leaders Like Us title, Gabby Douglas.
Can you imagine how Gabby Douglas felt the first time she stepped into a gymnastics studio? Did the mats and floors feel squishy below her feet? Did she hear whirling fans and floor routine music? Did she gaze in awe at the balance beam and uneven bars? To write a great biography, J.P. immerses herself in the subject and tries to discover how they may have felt at a certain point in time or during a certain situation.
When you are writing about important people like Gabby Douglas, doing research is a very important step in the process. Mentor texts are a perfect resource to help plan how you will write. Do you only want to write the facts about the person, or do you want to write about how the person thinks, feels, and how others perceive them? Do you want the text to flow like a poem, or read more formally like a book report? Watch J.P.'s video to learn more about how she used mentor texts to make a plan for her new Leaders Like Us title about Gabby Douglas.
Following alongside J.P. Miller during her writing process has been exciting so far, and made a lot of us wonder: how do Rourke authors like J.P. Miller even become authors? In the case of J.P., work-for-hire was the process that worked for her! If you've ever been interested in how the process of writing for a company like Carson Dellosa starts, you can watch our video with J.P. Miller to get the inside scoop on how she came to be a part of our family of authors and creators.
When the subject is chosen and the research is complete, it's now time to put words on the page! J.P. starts out by creating an outline to organize her thoughts to start a book manuscript. When working on a manuscript, it's important to remember that words can paint a picture in the mind of a reader. The same is true for a writer! When J.P. Miller creates a story with words, she is also thinking about how the illustrations will help bring the words to life. Find out more about how J.P. works with illustrations and illustrators.
While reading can teach us all about leaders we admire, it can also teach us new vocabulary, too. When J.P. Miller writes her Leaders Like Us titles, she is always thinking of just the right words to tell the best and most complete story. When a word is used that may be new to some readers, it becomes a vocabulary word that is added to the glossary. J.P. explains how vocabulary words are a great way for readers like you to learn the meaning of new words, all while learning about fascinating and inspiring people within the series!
It may feel great to learn new vocabulary along the way, but side bars are also a great tool to learn more about the people and events that are taking place or being discussed in a book. Check out J.P.'s most recent and final video to learn about side bars and how they help readers learn more about the amazing people in the Leaders Like Us series.
We've been on an awesome journey from research and outlines to illustrations and final touches. Check out all 15 of J.P.'s titles on sale now! Thanks for writing along with us!
Join J.P. on her writing journey from research to publication, including writing advice, reader Q&A, and giveaways! Follow Carson Dellosa on Instagram and YouTube to watch author videos and write-along series with J.P. Miller.