Posted by By Tommy Switzgable on Feb 25th 2022
Out with the old, in with the new! As the weather starts to get warmer with spring right around the corner, it's the perfect time to do some spring cleaning around the classroom. Introduce new products this season that students will love, and create a classroom environment that will help blossom their learning experience!
Free Spring Resources
What's the best way to keep your lesson plans fresh for the new season? With free classroom resources, of course! If you are looking for fun activities to add to your spring lesson plans, we offer a number of free Spring worksheets that cover a variety of topics, subjects, and grade levels. Help develop children's language arts skills with the Spring Roots and Affixes free printable that has students learn base words, prefixes, and suffixes, or celebrate Eric Carle's The Very Hungry Caterpillar while learning fun science facts with a free printable that explores the biology and habits of butterflies.
With St. Patrick's Day being around the corner, there are also plenty of free St. Patrick's Day worksheets to celebrate this unique holiday! Children can practice their addition and subtraction skills by using vibrant four-leaf clover in place of numbers. Along with this, children can feel lucky while practicing the alphabet with a free alphabet worksheet that has them fill in the missing letters to help the leprechaun complete his pot of gold.
New Season, New Learning Activities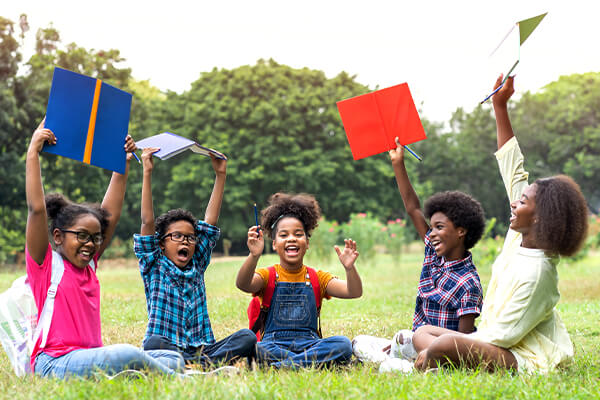 Make learning fun—anywhere, anytime—this spring with the brand new Be Clever Wherever collection! This collection of manipulatives resources help children develop their math, reading, language arts, and social-emotional learning skills from just about anywhere! The vibrant Things On Rings cards provide interactive reference cards for a variety of topics, from calming strategies for kids like yoga poses and breathing techniques to math practice like place value and shapes. The fun-filled of Be Clever Wherever Tool Kits include reference charts and subject-specific learning manipulatives such as dice and counters for math practice, a bookmark and reading ruler for reading, fidgets for calming corner practices, and more—all stored in convenient storage boxes that can be taken just about anywhere for on-the-go learning.
You can even integrate your child's favorite Disney characters into learning activities with Disney Learning all-new Let's Get Learning dry-erase activity books! Preschoolers, kindergarteners, and first graders go on a magical learning journey as they practice their language arts and math skills through a series of fun and engaging activities. Each activity book comes with a dry-erase pen for easy write on/wipe away and includes over 100 reusable stickers that kids use to complete fun activities again and again. With the help of their favorite Disney friends, children will fall in love with learning!
Plant the Seed for a Love of Reading With NEW Spring Releases
Since spring is the time of year for new beginnings, teach children about science and the life cycles of different organisms with the all-new Let's Go! Let's Grow children's book series. This series of children's science books uses engaging text and vibrant photographs to help kids explore the biological life processes of plants, mammals, amphibians, and more in an engaging way. Each book features new vocabulary words, a photo glossary, an index, and a fun post-reading activity to put their science knowledge to the test!
A new season is always the perfect time to add new resources to your classroom and lesson plans. Integrate free classroom resources, engaging texts, and hands-on activities to help your children bloom to their fullest potential this spring!