Posted by Jenna Cicero on Jun 2nd 2022
Longtime Rourke author, Kaitlyn Duling, has joined the Leaders Like Us author team! Kaitlyn's newest four titles Alvin Ailey, Sally Ride, Sylvia Rivera, and Pauli Murray, introduce readers to leaders in the LGBTQ+ community. Read more about Kaitlyn and her new titles—available this fall!
Q: You've written over 100 books for kids. What is the most fun thing about being an author?
A: As an author, I get to learn things every single day! I love to research new-to-me subjects and discover fun facts. One day I might be learning about the past, and the next—investigating the latest inventions! It's always an adventure.
Q: How did you choose the subjects of these four biographies?
A: There have been so many inspiring LGBTQ+ leaders… it was hard to choose! These four individuals were passionate and driven to pursue their dreams, no matter what (or who) stood in their way. They all took risks—writing, dancing, protesting, and even blasting off into space. Reading and writing about them left me energized and motivated to pave my own path and stand up for myself. I hope readers will feel the same way.
Q: What is the most fascinating thing you learned while writing this series?
A: Each of these amazing leaders was multi-talented. Did you know Sally Ride was a star tennis player as a child, and Alvin Ailey excelled at languages? Getting a glimpse of their childhood dreams was a gift… it reminds me that life does not take a linear path. A new direction is always waiting for us to discover it, just around the bend.
Q: What do you hope readers will learn from these new titles?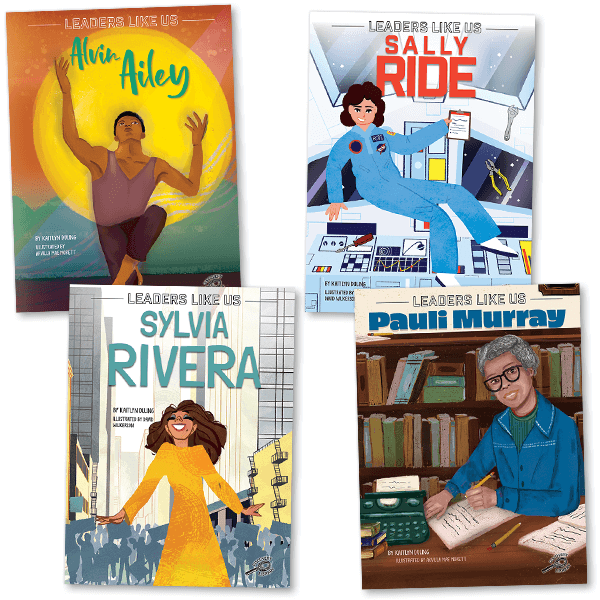 A: If this series sparks hope and pride in just one reader, I'll be happy. The more we can lift up LGBTQ+ leaders and remind ourselves of their strength and success, the more prepared we'll be to take on the world, no matter how we identify. We all have strength and love inside. When we can tap into that, we're unstoppable! I also hope readers are reminded to love themselves—no matter what.
Q: What advice do you have for young writers?
A: Keep writing! Whether you write in a diary, draw comics, compose songs, or draft novels… keep writing. Your words and your truth are two things that no one can ever take away. Keep creating characters, inventing silly stories, and transforming your emotions into poems. When you write—no matter how old you are, no matter who reads it, no matter how picture-perfect (or not) it sounds—you're helping tell the story of our world. That's something to celebrate.
Q: Besides writing, what do you enjoy doing?
A: When I'm not reading or writing, I'm on the go! My wife and I love to visit family and friends across the country. Sometimes they even take us to history museums and parks, two of my favorite things. We also love to run marathons, and we have a new goal: to run a race in all 50 states. I can't wait to see how far we get… see you at the finish line!
The Leaders Like Us biography series tells the stories of important leaders in science, the arts, government, sports, and other fields. Each individual book focuses on a specific trailblazer, and how they made a defining impact on their communities and the world as a whole. Check out the inspiring series today!