Posted by Jenna Cicero on Sep 22nd 2022
Spooky season is officially here! With Halloween just around the corner, this kid-loved holiday is a fun way to provide engaging lessons for students of all ages, and decorate your classroom to create a learning space that stays in the spirit of the season. To help prepare for a spook-tacular learning experience, we've got a list of teacher-favorite Halloween-themed resources, classroom décor, and more that are guaranteed to be a treat this Halloween.
Treat Yourself (and your kiddos) to Free Resources
There's nothing sweeter than free classroom resources (except maybe the candy). If you are looking for fun activities to add to your lesson plan on a budget, we offer tons of free Halloween worksheets that cover a variety of subjects, topics, and grade levels. Students will love activities such as spooky word searches, creating their own haunted house, writing a ghostly tale, and so much more.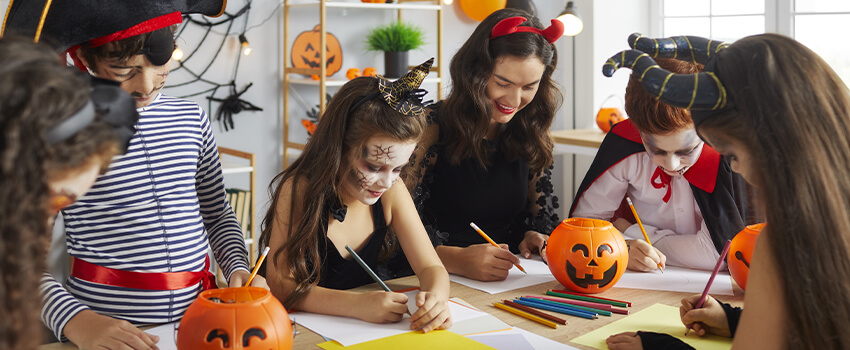 Incorporate Spell-Binding Learning Activities
Incorporating exciting holidays into your curriculum in turn makes learning exciting for students. The Halloween Holiday Printable Collection provides a number of seasonal science, math, and language arts activities like eerie word searches, pumpkin STEM activities, and howling handwriting practice to keep kids on their toes while practicing essential skills. These collections are sure to keep students entertained during the Halloween season with over 30 pages of printable fun, on-the-go activities kids can enjoy from just about anywhere.
Dress Up Your Learning Space With Spooky Classroom Décor
While adding spooky and engaging activities to your lesson plans is a great way to get kids excited about the holiday, decorating your learning space for Halloween is half the fun, too! Make your classroom pop this year by adding black bulletin board borders, purple classroom border, or orange scalloped borders to your bulletin boards and learning displays. If you're thinking ahead for future seasonal decorative ideas, check out our reversible Halloween/Holiday straight borders that have vibrant pumpkins and ghosts on the front, and fun Christmas-themed illustrations on the back for year-round decorating resources.
Bulletin Board Cutouts are another way to transform your classroom into the perfect Halloween learning space in a variety of ways. Decorate bulletin boards, doors, lockers, and more with vibrant, pumpkin classroom cutouts. You can even use cutouts to make flash cards, create labels and notes, or use for crafts or as game pieces! Seasonal classroom cutouts are also a great year-round resource, featuring seasonal icons from snowflakes and flowers to pumpkins and suns to create decorations, labels, and more all school year long.
You can also keep students (Halloween) spirits high with Halloween-themed incentives like colorful and animated Halloween stickers that include festive designs like ghosts, monsters, pumpkins, and more. Use Halloween stickers to reward students on a job well done, or incorporate them as fun giftables in a trick-or-treat bag or as prizes for educational games.
Brew Up Some DIY Halloween Activities
Whether you're decorating on a budget or simply love to get crafty, there's TONS of DIY Halloween activities that can bring learning to life for students. Reinforce math skills by playing math games using candy corn as manipulatives, or use them as bingo pieces for phonics and vocabulary practice (they also make a sweet treat for kids after they play!). You can even place the candy corn in a jar afterward and have students guess the amount for a small prize.
If you're looking for more of a hands-on craft for kids, have students paint little pumpkins to boo-st their creativity skills. You can make a contest so they vote on whose pumpkin is the spookiest, silliest, or most creative. Having students take on fun crafts is a great way to help teach fine motor skills while creating spooky designs to share with their families!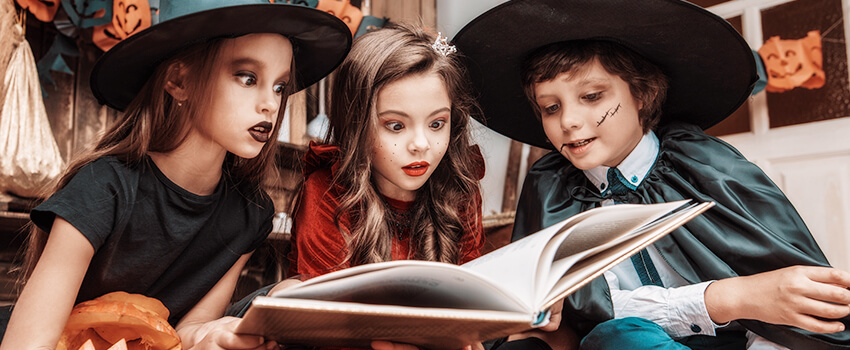 Great Halloween Boo-ks
Halloween is one of the best times of the school year to introduce young children to the magic of reading and provide them with books that give lifelong lessons and help expand their appreciation for storytelling. In the book How to Be Friends with This Werewolf, students learn how to create lasting friendships with others who may not necessarily be like them. This easy-to-read children's book is a great introduction for beginner readers to develop basic reading skills, learn about empathy, and engage their creativity with the help of friendly mythical creatures in a fun and thoughtful way.
Students can follow along and learn how to make the perfect pumpkin decorations (with a little help of course!) in The Perfect Jack-O'-Lantern Reader. Another great example is Trick or Treat, a fun book that features vivid illustrations of monsters that children dress up as for the holiday. Also available in Spanish, students can use this text as inspiration for their costumes, as well as an entertaining and engaging way to develop new vocabulary.
There are plenty of other Halloween-themed nonfiction books that are great additions to social studies curriculums, too. In the book Holidays Around The World: Halloween, Children's Book About Halloween Traditions, students learn about the history and traditions of this unique holiday, as well as how people celebrate it from all over the world! Featuring bolded glossary words to help expand vocabulary and post-reading questions to help further comprehension skills, this children's book is sure to be an integral part of any classroom or home library.
Halloween is the perfect time to create a learning space that integrates a web of activities and decorations that get students excited to learn. Witch-ever way you decide to celebrate the season, we hope you have a happy and treat-filled Halloween!