Posted by By Tommy Switzgable on Feb 25th 2022

Not only is March a time of year when flowers start to bloom and the weather gradually begins to feel warmer, it's also a month where we celebrate important women pioneers from our country's history. Women's History Month gives children the opportunity to learn more about the impact amazing women have made on history, and how to celebrate these individuals that continue to push boundaries in the present day. Using interactive activities, engaging books and readers, and vibrant pieces of classroom décor, promote Women's History Month in your classroom this year to celebrate women pioneers and inclusivity!
Inspirational Books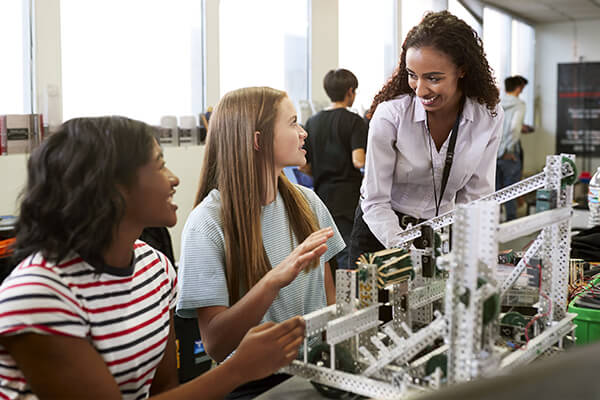 Integrate Women's History Month into your lesson plans this year with a number of books and readers that promote women's history and educate children on the lives of women pioneers from different fields. Inspire students to take an interest in the growing STEM field with the Women in Science and Technology series. This collection of biographies explores the lives of six women who made a resounding impact on medicine, engineering, space exploration and more. In addition to this, teach students how women can be leaders both on and off the field with the Women in Sports series. Learn how athletes like two-time Women's World Cup soccer champion and Olympic gold medalist
Megan Rapinoe and the most decorated Olympic gymnast Simone Biles achieved their dreams, their accomplishments, and how they use their platforms to promote social causes like racial justice and mental health awareness.
Motivational Classroom Décor
Integrating visual references into your classroom displays is a great way to teach children about Women's History Month. Using the Amazing People: Inspiring Women Bulletin Board Set, young students can learn about 60 inspirational women with diverse backgrounds, ranging from artists, performers, and athletes, to activists, trailblazers, scientists and mathematicians who changed the course of their respective disciplines. This 60-piece bulletin board set provides year-round visual reference for students with inspirational women such as Supreme Court Justice Ruth Bader Ginsburg, country singer and activist Dolly Parton, Malala, and more to use as a research opportunity to learn about different women pioneers, and uses vivid colors to create an inspirational and modern classroom décor theme.
Free Printables
Create an inclusive and inspiring lesson plan this March with free women's history month worksheets that celebrate Women's History Month. Using these free classroom resources, you can teach students about the lives of different women pioneers like Sojourner Truth or Eleanor Roosevelt while having them develop their reading comprehension skills by answering a variety of post-reading questions about the passages. In addition to that, students can learn how to study infographics while learning about women's history using a free worksheet that explores the athletic accomplishments of Jackie Joyner-Kersee. If your students want to continue to learn about influential figures after Women's History Month is over, use the Biography Research: Graphic Organizer free printable to give children the opportunity to learn about those that inspire them. This graphic organizer features a section for character traits, quotes, and major events to teach students how to do proper research techniques that they will enjoy.
Creating a classroom environment that teaches and celebrates inclusivity is a great way to inspire students to follow their dreams. Using these classroom resources that students are guaranteed to love, you can build a lesson plan and learning space that observes some of the most influential women in history. Celebrate Women's History Month this March (and every month!) in an engaging and educational way alongside us!