Posted by by Chris Schwab on Feb 22nd 2022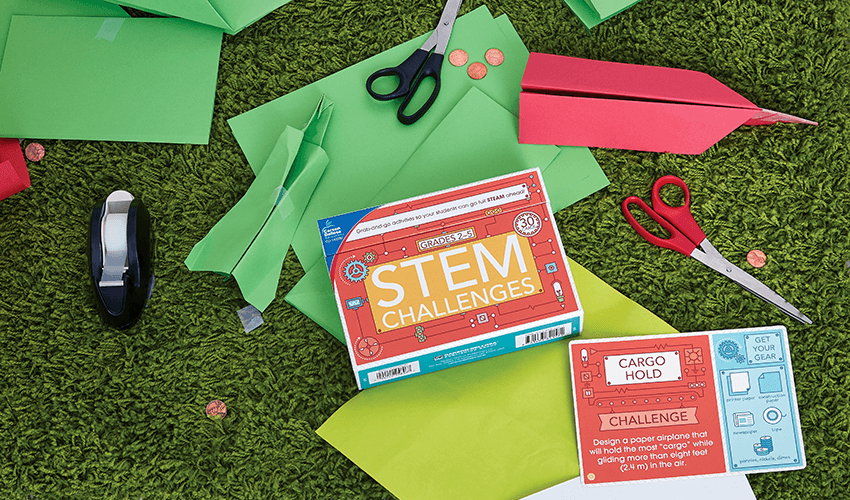 Earth Science Week is almost here! Every year since 1998, the American Geosciences Institute takes a week to provide resources that encourage students to understand and appreciate the importance of learning about the earth sciences. In the two decades since its creation, Earth Science Week has been celebrated by over 50 million teachers and students worldwide! It's also the perfect opportunity to integrate STEM-related topics and activities into your lesson plans. To help prepare for this exciting week, here are some of our favorite earth science activities and tips for integrating STEM into the classroom.
What is STEM?
There's a lot of buzz around the word STEM these days, an acronym that stands for science, technology, engineering, and math. The concept of STEM began when educators started to look at what the curriculum of the 21st century should entail. STEM education help kids learn to solve problems, create new things, imagine fresh ideas, and define the world in different ways. It creates good thinkers, communicators, problem solvers, innovators, movers, and shakers—exactly the future we want for our kids.
What about STEAM?
The difference between STEM and STEAM is obvious—the added A, which stands for art. It's natural to think about art when you're talking about creativity. For instance, talking about surface tension can lead students to understand how artists use it on marble paper—and then try it themselves! The arts are also a great way to pull students who aren't typically math or science oriented into the STEM world, adding more diverse opportunities for learning. STEAM workbooks are the perfect resource to introduce young students to this exciting and developing field through fun, hands-on learning activities and projects.
What does STEM look like in today's classroom?
Good STEM activities push students out of their comfort zones and make them think outside of the box. Each STEM activity often starts with a simple question, such as "How many drops of water can fit on a penny?". Then, students experiment with a simple list of materials—coins, an eye dropper, water, dish soap, oil, and sunscreen.
Have students consider the four Cs of STEM as they answer the question:
Creativity

—Give students the opportunity to think about how to use the materials to create different solutions.

Communication

—Encourage students to talk in small groups about all the possibilities and outcomes of various solutions.

Critical Thinking

—Teach them to ask questions like "What if?" and "Why not?". As they think, plan, and execute, invite them to analyze and compare their answers.

Collaboration

—Make it a team effort. Let students know that they can be followers, leaders, or both.
Another way to incorporate these topics into the classroom is to decorate the room to promote STEM success! Display a vibrant STEM bulletin board set to prepare, motivate, and support the class during your different lab sessions. If you're teaching a specific topic, display interactive charts around your classroom to reinforce the lessons in an engaging way. For example, during Earth Science Week, displaying this interactive weather wheel chart not only teaches children about weather through a hands-on activity, its vibrant colors also add zest to the classroom!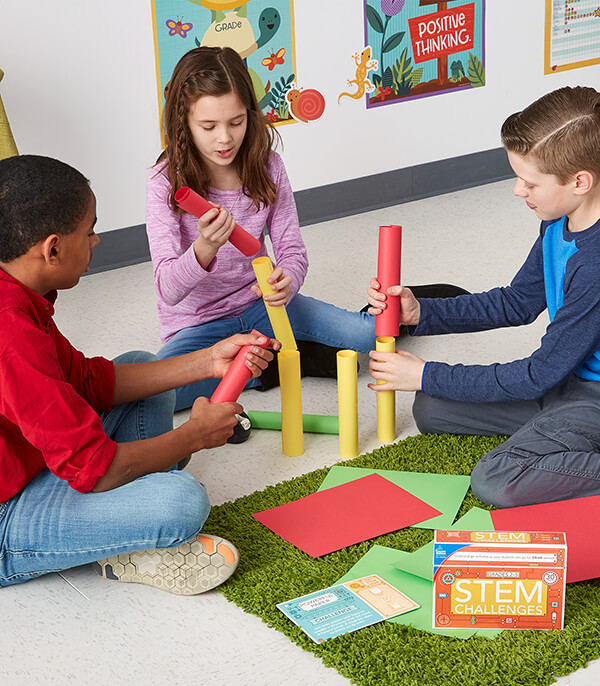 Getting Started
Sometimes the idea of putting together a STEM project can seem overwhelming. Where will I get all the materials, and will there be enough for everyone? How much will it cost? Where will I find the time?
We can help. We've created handy boxes of simple, grab-and-go activities that challenge kids of all ages. Our STEM Challenges Learning Cards and Seasonal STEM Challenges Learning Cards are packed with low-prep, ready-to-go activities. They use common classroom or household materials for fun hands-on activities, and are successful with learners at every level. Examples of a few engaging challenges are:
Creating a paper rocket that will fly without being touched
Figuring out the best way to "digest" a cracker
We've also prepared free online resource guides to accompany both sets of learning cards. These guides provide more traditional experiments that connect to the science in each challenge.
In addition to this, if you still feel like you need to support your lesson plan in a pinch, our In a Flash printable series covers a variety of earth science and other STEM-related topics, while providing activities, labs, and more in one singular download.
However, if you're more interested in adding a singular activity to your lesson plan, we offer hundreds of free printables that cover a variety of STEM subjects and topics. Earth Science Week is the perfect opportunity to integrate these free activities into your lessons, as they are a fun and easy way to introduce students to the field. Along with this, encourage students to explore these opportunities by using a STEM activity kit, which allows children to express their creativity while also learning how these fields work together. If you're interested in more than a singular lesson, workbooks provide numerous leveled-activities and include answer keys to help track the success of your students.
The Future of STEM
With the rise of STEM-related jobs, it is important that today's education system incorporates lessons on science, technology, engineering, and mathematics. Integrating programs surrounding Earth Science Week into the classroom can have a profound impact on not only the academics of a student, but on their future success as well. Remember to celebrate Earth Science Week from October 10th—16th, and have a happy fall!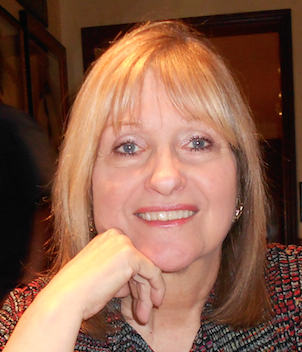 Chris Schwab, a former teacher with 12 years of experience teaching elementary special education, is an editor on the product development team at Carson Dellosa Education.