PBS Station WTJX Offers Educational Resources for Hurricane-Impacted Children in U.S. Virgin Islands
In Wake of Hurricanes Irma and Maria, Donations of Smart TVs From Sony Electronics Inc., PBS KIDS Plug & Play Devices From Ematic and Classroom Resources From Carson-Dellosa Support Learning for Underserved Youth in Head Start Centers and Preschools.
UNITED STATES VIRGIN ISLANDS, November 8, 2017 – In the wake of devastation from Hurricanes Irma and Maria across the U.S. Virgin Islands, local PBS member station WTJX is responding with a creative way to help young children on the islands—many of whom have lost their homes or lack access to educational resources. With support from Sony Electronics Inc., Ematic and PBS, WTJX is providing BRAVIA® 4K smart TVs and playback devices and PBS KIDS Plug & Play HDMI streaming sticks to Head Start centers and preschools in the territory, offering young children access to PBS KIDS educational content for free. Carson-Dellosa Publishing Group is also contributing classroom resources.
WTJX staff members are also visiting local Head Start and preschool classrooms to lead lessons using PBS KIDS Playtime Pads that help children build key early learning skills. "WTJX is committed to supporting education in the communities we serve, and we are dedicated to meeting local needs—especially for our youngest citizens," said Tanya-Marie Singh, CEO, WTJX. "As we all recover from the impacts of Hurricanes Irma and Maria, we know that many children lack access to high-quality educational resources. WTJX is proud to help address this need and we are grateful to Sony, Ematic, Carson-Dellosa and PBS for their support."
Since Hurricanes Irma and Maria hit the U.S. Virgin Islands, many of the Head Start centers that serve low-income families across the region have been tasked with accepting more children, while coping with a lack of books, educational materials and activities for them. Through these donations, many of these children will have access to educational content on Sony smart TVs via the PBS KIDS Plug & Play, a TV and playtime streaming stick powered by Ematic that provides a one-stop destination for a variety of PBS KIDS games and videos, accessible with or without Wi-Fi.
Sony's Professional Solutions Americas group has worked with PBS for decades, providing broadcast and production technology and a range of services designed to support content distribution across PBS and its member stations. "Sony's long-standing relationship with PBS is not only limited to products and technology," said Mike Fasulo, President and Chief Operating Officer of Sony Electronics. "When they asked us to help, we were more than happy to do whatever we could. We always say our technology mission is to help enrich people's lives and there's no better example of carrying out that philosophy than helping children."
PBS KIDS partnered with Ematic, a leading innovator in children's educational and entertainment tech products, to bring PBS KIDS Plug & Plays to the Head Start centers. "We are honored to have the opportunity to help, as that is part of our mission statement as a company," said Roy Rayn, President, Ematic. "Our hearts and prayers are with the victims of this devastating hurricane."
PBS KIDS and Carson-Dellosa announced a multi-year licensing partnership earlier this year to create a brand new series of PBS KIDS books and workbooks. "Our team was heartbroken by the devastation caused by Irma and Maria, and by the impact it had on children, schools and families," said Al Greco, CEO, Carson-Dellosa. "We were happy to join PBS KIDS in this initiative, and hope our workbooks and classroom resources will help support Head Start programs and the children and community they serve."
About WTJX
The Virgin Islands Public Broadcasting System serves the people of the Virgin Islands mainly through its PBS and NPR stations, WTJX-TV and WTJX-FM. In August WTJX-TV celebrated its 45th anniversary on the air. The system is committed to programming and community engagement that advance the interests of education, culture, history, and information that responsibly impact the people of the territory. Follow us on facebook.com/wtjx. Listen on 93.1 FM. Watch us with your antenna on Channels 12-1, 12-2, and 12-3 or on Viya Cable TV on 12 & 90, 91, and 92.
About PBS
PBS, with nearly 350 member stations, offers all Americans the opportunity to explore new ideas and new worlds through television and digital content. Each month, PBS reaches nearly 100 million people through television and nearly 28 million people online, inviting them to experience the worlds of science, history, nature and public affairs; to hear diverse viewpoints; and to take front row seats to world-class drama and performances. PBS' broad array of programs has been consistently honored by the industry's most coveted award competitions. Teachers of children from pre-K through 12th grade turn to PBS for digital content and services that help bring classroom lessons to life. Decades of research confirms that PBS' premier children's media service, PBS KIDS, helps children build critical literacy, math and social-emotional skills, enabling them to find success in school and life. Delivered through member stations, PBS KIDS offers high-quality educational content on TV—including a new 24/7 channel, online at pbskids.org, via an array of mobile apps and in communities across America. More information about PBS is available at www.pbs.org, one of the leading dot-org websites on the internet, or by following PBS on Twitter, Facebook or through our apps for mobile and connected devices. Specific program information and updates for press are available at pbs.org/pressroom or by following PBS Pressroom on Twitter.
About Sony
Sony Electronics is a subsidiary of Sony Corporation of America and an affiliate of Sony Corporation (Japan), one of the most comprehensive entertainment companies in the world, with a portfolio that encompasses electronics, music, motion pictures, mobile, gaming and financial services. Headquartered in San Diego, California, Sony Electronics is a leader in electronics for the consumer and professional markets. Operations include research and development, engineering, sales, marketing, distribution and customer service. Sony Electronics creates products that innovate and inspire generations, such as the award-winning Alpha Interchangeable Lens Cameras and revolutionary high-resolution audio products. Sony is also a leading manufacturer of end-to-end solutions from 4K professional broadcast and A/V equipment to industry leading 4K Ultra HD TVs.
About Carson-Dellosa Publishing Group
At Carson-Dellosa, we believe that learning is everywhere. Whether at school, at home, or on-the-go, life is filled with learning moments. As the market-leading publisher of children's supplemental educational products, we've been bridging school and home with innovative solutions for teachers and families for more than 40 years. Our well-recognized brands Carson-Dellosa Education™, Spectrum®, Summer Bridge™, Thinking Kids™, and Brighter Child® are available at over 10,000 retail locations, in addition to its direct-to-consumer ecommerce platform carsondellosa.com. For more information about Carson-Dellosa, visit carsondellosa.com, or follow Carson-Dellosa on Facebook, Instagram, or Pinterest.
About Ematic
Ematic, the innovator in children's educational and entertainment tech products, employs a breakthrough approach in providing superior technology in portable media that has continued to impress consumers since 1985. Built on a solid foundation of technological advancement, our commitment to premier quality and value has earned us the reputation of one of the top-selling brands at Wal-Mart, QVC, Toys R Us, Best Buy and other fine retailers. From Portable DVD Players to Android Tablets, Ematic offers a solid range of durable electronics with an undeniable low price. Ematic was the proud manufacturer of the #1 selling kids tablet in 2015 in the USA (NPD). Designed in California, all of our patented products are customizable in a wide array of color options to suit your personal style. In addition to an environmentally friendly office approach, Ematic also supports the community by donating ten percent of our total profits to charity.
Contacts
Maria Vera Whelan, PBS; 703-739-3225; mvera@pbs.org
Cheryl Goodman, Sony; 858-942-4079; cheryl.goodman@sony.com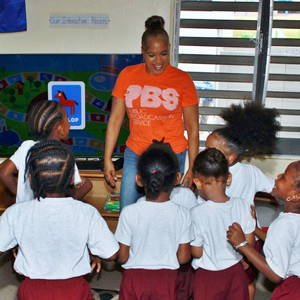 WTJX Chief Executive Officer Tanya-Marie Singh delivers educational resources to a local preschool.
We were happy to join PBS KIDS in this initiative, and hope our workbooks and classroom resources will help support Head Start programs and the children and community they serve.