Carson Dellosa Education Partners with DonorsChoose.org
Carson Dellosa Education, a leading education company, pledges to fund $25,000 of classroom projects in partnership with the nonprofit organization DonorsChoose.org.
COLUMBUS, Ohio (PRWEB) October 05, 2018
Leading education company Carson Dellosa Education is celebrating World Teachers' Day by pledging to fund $25,000 of classroom projects through its new partnership with DonorsChoose.org, a nonprofit organization that allows individuals to donate directly to public school classroom projects.
"Because we were founded by teachers, and many of our employees started their careers in the classroom, the teaching community means a lot to us. Our company has always been committed to giving back to teachers and empowering their goals to improve students' learning experiences," said Ira Hernowitz, CEO of Carson Dellosa Education.
Founded in 2000 by a former public school teacher, DonorsChoose.org was among the first civic crowdfunding platforms of its kind, and 80 percent of teachers have turned to the site to bring their classroom dreams – big and small – to life. The site has been a resource for teachers to request the classroom materials they need to give their students a great education. The inspiring projects range from expanding classroom libraries and enhancing classroom technology to funding the arts and so much more.
"World Teachers' Day celebrates the vital role that teachers play in providing quality education across the globe," said Hernowitz. "We could not think of a better way to mark the occasion, and we look forward to helping teachers fund projects that will help students learn." Teachers can learn more about how to submit projects by visiting carsondellosa.com
About DonorsChoose.org
Founded in 2000 by a Bronx history teacher, DonorsChoose.org has raised $740,963,775 for America's classrooms. Teachers come to DonorsChoose.org to request the materials and experiences they need most for their classrooms, and donors give to the projects that inspire them. To date, 3,440,092 people and partners have funded 1,255,846 projects on the site, reaching 30,264,074 students and making DonorsChoose.org the leading platform for supporting U.S. public schools. DonorsChoose.org is the only crowdfunding platform that vets each request, delivers materials directly to schools, and captures the impact of every funded project with photos, thank-you letters, and a cost report showing how each dollar was spent. In 2014, DonorsChoose.org made the top 10 of Fast Company's list of the World's Most Innovative Companies, the first time a charity has received such recognition.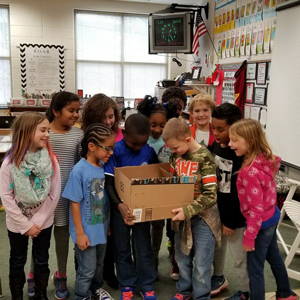 Carson Dellosa partners with DonorsChoose.org
Because we were founded by teachers, and many of our employees started their careers in the classroom, the teaching community means a lot to us.
About Carson Dellosa Education
At Carson Dellosa, we believe that education is everywhere. Whether at school, at home, or on-the-go, life is filled with learning moments. As the market-leading publisher of children's supplemental educational products, we've been bridging school and home with innovative solutions for teachers and families for more than 40 years. Our market-leading brands Carson Dellosa Education™, Spectrum®, Summer Bridge™, Schoolgirl Style™, Thinking Kids™, Rourke Educational Media, and Brighter Child® are available at more than 10,000 retail locations.
Contacts
Julia Davis, VP Marketing, Carson Dellosa Education, 443-631-0683; jdavis@carsondellosa.com
Scott Evans, Chairman of the Board, Carson Dellosa Education, 610-263-0107