The Carson-Dellosa Publishing Group Announces Exclusive Partnership with Classroom Designer & Popular Blogger Schoolgirl Style™
Carson-Dellosa will bring teachers' favorite Schoolgirl Style™ classroom collections into retail stores across the country.
Greensboro, NC (PRWEB) December 26, 2017
Today, Carson-Dellosa announced an exclusive, multi-year partnership with Schoolgirl Style™, a classroom décor brand founded by Melanie Ralbusky. Carson-Dellosa will publish Schoolgirl Style products which will be available at retailers across the country beginning January 2nd, 2018.
"By collaborating with Carson-Dellosa, my wish is that I can have a small part of bringing joy into the classroom for many years to come," Ralbusky said. As an 18-year veteran educator with a passion for education and design, Ralbusky hopes that her collections "inspire and provide an opportunity to create a unique space that will ignite an excitement for teaching and learning like never before."
For more than 40 years, Carson-Dellosa has been on the forefront of innovation in educational publishing. The brand's best-selling products have helped teachers and families to capture life's daily learning moments. "From favorites like Boho Birds and Colorful Owls to Up and Away and Aim High, our best-selling décor collections have brought fun, inspiration, style, and organization to classrooms across the country," noted Al Greco, CEO of Carson-Dellosa, continuing that, "Partnering with Schoolgirl Style and having Melanie's designs available at retail stores allows us to expand our offerings of stylish new collections that we know teachers will love."
With more than 75 pieces spanning bulletin boards and birthday crowns to borders and lanterns, these Schoolgirl Style products are sure to become must-haves for teachers nationwide. "It is beyond exciting to be able to walk into a store and purchase my collections! Together, we are making it easier for teachers to create a coordinated, beautiful, and FUN classroom space," exclaimed Ralbusky. With teachers' tight financial budgets in mind, these new products range in price from $1.99 to $14.99, many of which cost less than $10.
The partnership will initially launch with these three collections: the modern farmhouse-inspired Industrial Chic, the inspiring chalkboard-themed Twinkle Twinkle You're a STAR!, and the brightly-colored line of Just Teach.
About Schoolgirl Style™
Schoolgirl Style is a brand of classroom décor founded by Melanie Ralbusky. As a passionate teacher and creative thinker, Ralbusky believes that anything is possible—creating extraordinary spaces is her obsession and inspiring teachers is her purpose. Feeling the need to share her exciting ideas with fellow teachers, Ralbusky was inspired to launch the chic Schoolgirl Style brand to help take the "guess work" out of classroom decorating. With more than 100,000 followers on social media, the Schoolgirl Style blog was voted "Best New Blog" by Really Good Stuff and Ralbusky's work has been featured on several classroom décor websites. Select Schoolgirl Style designs are now available through Ralbusky's exclusive collaboration with the Carson-Dellosa Publishing Group.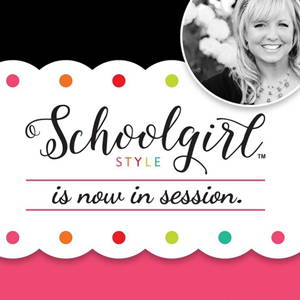 Melanie Ralbusky, founder of Schoolgirl Style™
By collaborating with Carson-Dellosa, my wish is that I can have a small part of bringing joy into the classroom for many years to come.
About Carson Dellosa Education
At Carson Dellosa, we believe that education is everywhere. Whether at school, at home, or on-the-go, life is filled with learning moments. As the market-leading publisher of children's supplemental educational products, we've been bridging school and home with innovative solutions for teachers and families for more than 40 years. Our market-leading brands Carson Dellosa Education™, Spectrum®, Summer Bridge™, Schoolgirl Style™, Thinking Kids™, Rourke Educational Media, and Brighter Child® are available at more than 10,000 retail locations.
Contacts
Julia Davis, VP Marketing, Carson Dellosa Education, 443-631-0683; jdavis@carsondellosa.com
Scott Evans, Chairman of the Board, Carson Dellosa Education, 610-263-0107