Posted by By Marisa Rubin on Feb 22nd 2022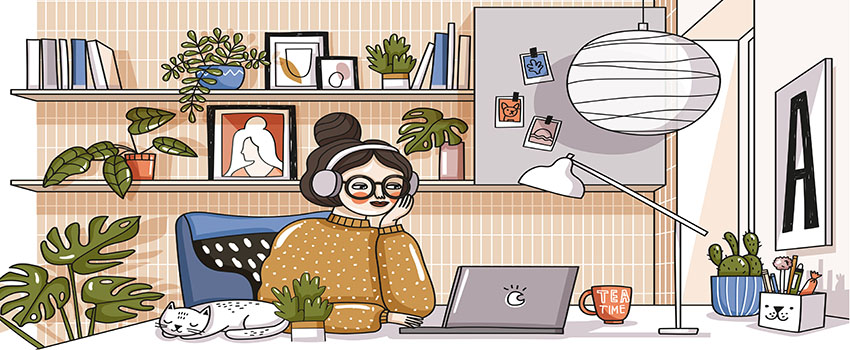 Now, more than ever, teaching from home has established its role as a viable way to conduct class. Whether you're teaching from a spare bedroom or the kitchen table, it's important to make sure that your teaching space provides you with everything you need to provide your students with as seamless and productive class as possible. Here are some suggestions to incorporate into your at-home teaching environment that can help you create the ideal virtual classroom setup:
Proper Sit-Down Accommodations
First and foremost, make sure that your chair is comfortable. It's safe to assume that you're spending more time in your chair than you would be in the classroom (and probably searching for new ways to get your steps in each day). If you're looking to upgrade, consider an ergonomic chair that is specifically designed for workplace efficiency and comfort. You can also find additional cushions for proper back and spine support. If your chair features rollers on the bottom, opt for a floor mat for easy mobility. If you're comfortable with balance, a specially-designed ball chair (with the platform so you don't roll around), is a great option. It helps you sit straighter and gives you more core control. Don't feel stuck to one type of seat, you can swap out the chair (depending on your mood).
Stand-Up Desk
Long days sitting at a desk can be taxing. To help alleviate any potential back pain or exhaustion, stand up for your aching muscles and opt for a stand-up desk. You could also consider purchasing a memory foam mat to stand on so your feet don't get tired. It's all about comfort.
Exercise?
With the influx of at-home or remote working, many new options for movement have become available. From portable treadmills to under-desk cycling machines, you can keep your energy moving while focusing on what's important—teaching. Many of these desk versions are small, compact, and easy to use. You can even get the whole class moving with virtual stretching, jumping jacks, and other fun movements to get everyone's blood flowing and heart rate moving to feel more energized throughout the day.
What's in the Frame?
Take a good look at what's showing behind you. From artwork on the walls to obtrusive lighting that can drown out important focus, everything that's in view needs to be professional, clean, and clear of unnecessary distractions. Think about putting up some motivational posters or a fun, colorful bulletin board or white board with seasonal decorations, fun quotes, and other engaging displays. You can use a white board for your lessons, as well as a place for magnetics.
Keep Things Close
Think about what you'd use on a daily basis in the classroom—a stapler, paper clips, notepad, pens, markers, etc. Make sure all of those items (and more) are within an arm's reach so you don't need to leave the frame if you're reaching for one of those items.
More Than One Screen
Yes, having a laptop is nice for remote work, but using one screen can be restricting. Think about incorporating additional monitors so you can get a nice, organized view of your workspace, your lessons, and your students. Each screen can be designated for one view.
Lighting
You're the star of the show, so make sure that your teaching environment provides adequate overhead lighting. Natural lighting is great as well, but with overcast days or different time zones, can sometimes leave you in the dark. If you have a nice desk lamp somewhere in the house, consider using it as additional lighting by tilting the lampshade up and towards your face. If you're able to purchase a special light, look for a ring light or some that has a bendable neck to move as you see fit.
Sound Up!
Most computers have an internal microphone, but to make sure you can be heard loud and clear, think about investing in an additional mic. Definitely don't rely on the small mic that's attached to your headphones, as they can easily pick up background noise or get muffled.
Snack Time
While you're working hard to keep your students hungry to learn, it's important to curb your own hunger, too! Sometimes having a little snack during a busy day is just what you need to keep your energy up and your focus maintained. Keep some of your favorite snacks nearby for when you need a little boost of sugar or to keep those noisy hunger pangs at bay.
The Little Things
While your main desk might not have enough space for everything you need, consider purchasing a small, rolly desk or cart to house necessary items like file folders, pencils, tab stickers, extra paper, etc. You can keep the cart close to your desk (or tucked under if possible) so everything you need is there when you need it.
Encouraging Décor
Keep some simple reminders close by to give you encouragement. From motivational posters and notepads to fun coffee cups and themed file folders, adding a bit of style and pizzazz to your desk or work environment can work wonders for your morale.
Printer/Scanner
Don't forget that printing papers and scanning documents are necessary for organization. Many teachers are used to relying on the printers that were provided by their school, but it's important to also keep in mind that owning your own printer is useful for personal and professional document management.
Overall, your at-home teaching environment (or office space) should be your comfort zone. It should be a place where you can be creative, attentive, and organized—and your students are motivated to be the same, too! Whether you have a shared area or you're lucky enough to have a designated room, it is always key to be set up for success.