Posted by By Jenna Cicero on Apr 30th 2021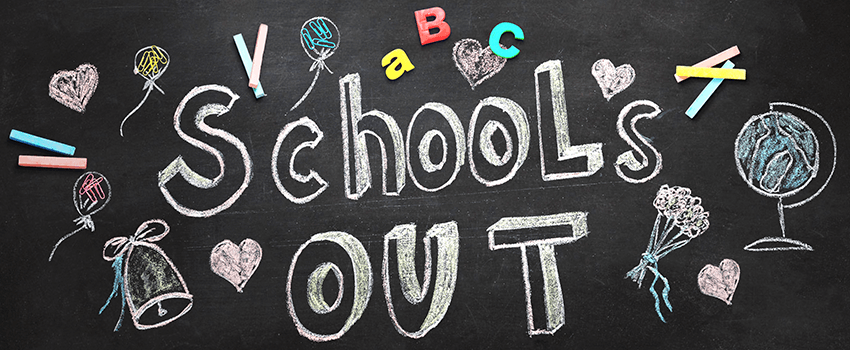 With the socially-distant school year coming to a close, some educators are looking for fun and unique ways to celebrate all their students' hard work. With virtual learning affecting the typical end-of-year celebrations, it's time to get creative.
To ensure that students still receive the recognition they deserve, we've compiled a list of 10 creative and virtual-friendly ways to celebrate the end of the school year safely and remotely, while maintaining a fun learning environment that gives students the perfect sendoff before summer.
Take a virtual field trip around the country!
Skip the long lines, student counting (and re-counting), and noisy bus rides—celebrate the end of the year with a virtual field trip! One of the benefits of remote learning is that you can now visit museums from around the world from the comfort of your own home or learning space! Students can discover ancient Egyptian mummies at the British Museum in London, learn about Mayan civilization at the National Museum of Anthropology in Mexico City, check out clothes and fashion from the revolutionary era at the National Gallery of Art in Washington D.C., and more!
Another great way to get students out of the classroom and into the world is through virtual visits to some of the most critically-acclaimed national parks! Explore glaciers and icebergs in Alaska, volcanoes in Hawaii, vast canyons in Utah, and many more magnificent wonders of the world.
Host a virtual game day for your students
We all know kids love to play games, so why not turn a day of learning into a day of fun learning games? Play vocabulary bingo or math bingo to freshen up on what students have learned throughout the year, and include fun prizes or cheap giftables like bookmarks, puzzle activity books, and more!
Test your students' skills with fun memory games where they have to match pictures and use their thinking caps! You can even make up games like "Would You Rather," and "I Spy," or customize virtual games like "Mad Libs" for silly storytime fun!
Pump students up for summer with free summer-themed printables!
Students can decode puzzles, solve word searches, color, trace, and more with easily accessible summer-themed printables. Activity sheets are a great way to keep kids engaged for hours and practice essential skills at the same time. You can even print out free calendar sheets for the summer months that students can color, fill in the dates for, and use during summer break to practice their scheduling skills and count down the days until school starts again.
Get kids moving and learning with Summer Bridge Activities
A great way to get kids moving while learning essential skills is by using Summer Bridge Activities Workbooks! Each grade-specific workbook features fun learning activities and games, fitness exercises, engaging passages, and science experiments that kids love and can do with ease from a home setting or on the go. Colorful stickers are included in each activity book to reward students on a job well done (or for fun, let's be honest). Flash cards are also featured inside the workbook to create engaging games that make learning fun for kids.
Summer Bridge Activities Bundles are jam-packed with activities, engaging children's books, exercises, interactive games, and more―all in one set! Each grade-specific bundle features 2 nonfiction books, 2 fiction books, a workbook with flash cards—and stickers! A separate pack of flash cards is also included with bonus resource cards that includes fun games, tips, and activities to keep the learning fun going full steam ahead for hours on end. Each bundle is carefully crafted in an easily portable drawstring bag that students will love to use all summer long—even after school is out!
Have a music day
Warm up your vocal chords because learning's about to get melodical. Music is a great way to bring students together, while also teaching them about rhythm, movement, and essential motor skills. If you play an instrument or like to sing, grab a guitar or set of keys and have the class sing along to some age-appropriate songs! If musical instruments aren't your forte, turn to Spotify or any other music streaming service for some quick and easily accessible musical fun. The class will be moving and grooving in no time!
Put on a virtual talent show
Talent shows are a great opportunity for students to exhibit their confidence, support and motivate others, and practice and showcase a skill set. Watch as kids yo-yo, dance, sing, play an instrument, or crack a few jokes. You can even have students collaborate as a class to pick their favorite talent out of the group! Of course every student is a winner, but it would be fun to give student recognition for sharing something special with the class that everyone enjoyed.
Create a fun reflection journal or comic book
What better way to get the creative juices flowing than with some creative writing? Set up directions to help your students create their own journal where they can write about certain events that happened throughout the school year, their favorite memories, subject, the friends they've made, and more! Have your students draw pictures to go along with each memory they're describing to make their own personal end-of-year book.
You can even turn storytime into a fun way for students to create their very own comic! Have students create a superhero (or use themselves as their own superhero), pick a superpower of their choice, and write a story about saving math class, defeating the villain who tried to take away recess or their favorite school lunch, and other funny and creative school-related topics!
Have a storytime session
Bring the magic of reading to life with a fun storytime session! Have your students vote ahead of time on their favorite book selections and read them aloud to the class. Leverage eBooks so kids can follow along and enjoy the colorful illustrations. Turn storytime into a popcorn session where students can interject and read sections, and choose other students to pick up where they left off!
At the end of each book, have your students engage in conversation about what they read. Who was their favorite character and why? What was their favorite part of the story? What lessons did they learn? This is a great way to let kids embrace their love for imagination, and also enhance their reading comprehension skills in a fun and inviting way that the whole class can enjoy.
Get your kids moving with a virtual Field Day
While your kiddos may not be able to enjoy an in-person Field Day, there's tons of activities you can involve them in to increase their heart rates and get their blood pumping. Try having a jumping jack competition, play Simon Says, and commence a jump rope competition! Students can also participate in silly games like who can hop on one foot the longest, sprint the fastest, or hula hoop the longest! Have your kids run in place, log roll, or the ever-so-popular water bottle flip trick! You can even provide t-shirts for all the students to decorate and craft themselves to wear for the Field Day festivities.
Prep with some fun and easy rewards like stickers, colorful notepads, and other little giftables your kids will love. There's tons of ways to keep kids active while participating from home, just be sure they have the equipment they need ahead of time, and make sure it involves games and activities that keep everyone safe and out of harm's way.
Host a virtual awards ceremony
A great way to build confidence and inclusion in the classroom is to celebrate every student's achievements! Start by awarding each student with a unique title or award; with a celebratory certificate of achievement that they can hang on the fridge at home. Awards can vary from "most organized" to "participation award", or even the "most positive attitude" to silly awards like "class clown" or "most talented singer." Every student will feel special and included, and feel recognized for a skill set—no matter how unique!
You can also have students vote ahead of time for top awards such as "most studious," "best sharer," "best mathlete," or "most artistic" to incorporate class participation. This is a great way to have students recognize and motivate one another for positive attributes, no matter how diverse your classroom may be.
There are so many ways you can make the end of the year feel special for your students while distance plays a factor—the list is endless! From virtual field trips to creative outlets, whichever idea you choose will be sure to excite and engage the classroom no matter which activity you plan. How will you send off your students for summer?