Posted by By Leigh Ann Pernell on Nov 17th 2020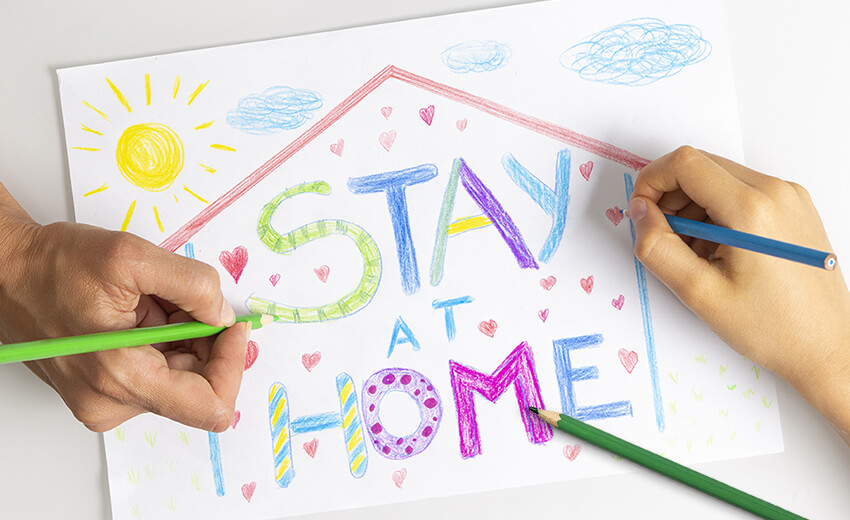 As COVID-19 disrupts the world, experts continue to recommend the practice of social distancing. While we may have to remain physically distant to stop the spread, we do not have to be emotionally distant. In times of stress, it is vital for children to keep interactive communication alive and relationships flourishing. Here are just a few ways to stay physically distant, yet emotionally inclusive:
Write Cards, Notes, and Letters
Letter writing is becoming a lost art, but we have a great opportunity to nurse this intimate form of communication back to health. Encourage your child to write a note or create a handmade card and send it to a loved one. This personal form of communication can truly lift someone's spirit when opening the envelope—eager to see what is inside. You can check out some great letter writing resources for kids here.
Young ones can show others that they care by sharing a handmade craft or piece of artwork. Your loved ones will know that they were in your thoughts as you were creating these special works of art. The recipient will think of you each time they see your beautiful gift of love.
Have a Standing Phone or Video Chat Date
If you have access to technology, you have a great tool for interactive communication. Set aside a weekly time to touch base with friends or family by phone or video chat. Protect this scheduled time and set a plan for what items you might discuss each week. You can plan to tell jokes, read a bedtime story, or share a meal while chatting.
Children and their friends can plan to read the same book and hold a virtual "book talk" to discuss what they have read. This is a great way to share your thinking about a common topic and explore story elements in the process. Read to a certain page of the text and then predict what will happen next. Check out the outcome of your predictions at your next book talk.
Share a Treat
Put the whole family to work in the kitchen and prepare a special treat like cookies, cupcakes, or muffins. Wrap these delicious goodies and leave them on the doorstep of someone you hope to cheer. Make sure to call or text and let your loved ones know to be on the lookout for your special gift!
Encourage friends or family members to solve a STEM challenge. Science, technology, engineering, art, and math inspire open-ended thinking. Text or email a challenge to friends and set a time to connect virtually to share your results. You might invite the group to invent a catapult or build a 3-D house that will hold a teddy bear. Be creative and let the engineering begin!
Play a Virtual Game
Games are always a great way to bring folks together. Grab your phone or computer, some paper, and a pencil — and you are ready to play virtual Hangman. You could also play 20 questions over the phone. "I am thinking of an animal. You have 20 questions to narrow down the answer." Games are great tools for interaction and build a variety of thinking skills and problem solving strategies.
These are just a few ways to stay socially connected while staying physically distant. Humans are social beings and we need to communicate, encourage, and inspire each other — especially during difficult circumstances. Experts encourage us to stop the spread by staying socially distant, but that doesn't mean we have to be socially isolated. By encouraging our children to stay connected to loved ones, we empower them. Our children see the strength of their positive energy as they inspire others with acts of loving kindness.