Posted by Angie Olson on May 15th 2023
Pocket Charts have endless use in the classroom! They come in handy for displaying schedules, objectives, taking attendance, or even as a placeholder for vocabulary words. They are also fantastic for organizing materials in other outside-the-box ways. Take a look at these creative ideas to find inspiration to utilize pocket charts in the classroom!
Use Adjustable Pocket Charts to Organize Schoolwork by Priority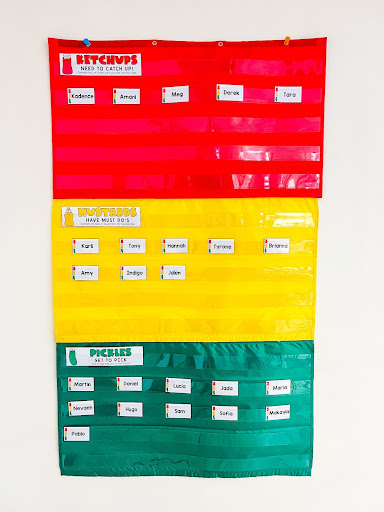 "Mustard, Ketchup & Pickles" is a fun procedure so students know exactly what to work on during independent times of the day. This works perfectly for early finishers, too!
Here's more information on what each color means:
Mustard: This is the independent work students need to do first. It could be a workbook page or anything related to a lesson. It's a "must do". Once finished, students can move onto Ketchup or Pickles.
Ketchup: This is "Ketchup" (or catch up) for students who have missed work from earlier.
Pickles: With Pickles, students get to choose what they want to do. This is their chance to decide, and have some fun!
Head to this blog post for more details about setting up a Mustard, Ketchup and Pickles routine.
Create an Affirmation Station
Affirmation stations are spaces in the classroom where students can go to receive positive affirmations and encouragement. They can be set up with uplifting quotes, positive affirmation statements, and encouraging messages. Adjustable pocket charts are perfect for this because they provide an easy way to store and display all the messages! Here's how to effectively set up an affirmation station:
Designate a specific area of the classroom where the pocket chart will be displayed, such as a quiet corner or reading nook.
Prepare a set of positive affirmations or uplifting quotes to display on the pocket chart. These can be pre-made or chosen/created by the students.
Use File Folder Storage Charts to Organize Unfinished Work
Imagine not having to find a place to organize unfinished work or take home folders! The file folder storage chart is perfect for organizing this work while preventing it from becoming desk or counter clutter.
Individual student pockets: Having enough pocket charts for each student to have an individual pocket is an efficient way to organize their unfinished or makeup work. Place a folder in each pocket. Then, each time a student doesn't finish class work, or is absent, place the assignment in the folder. Teach your students to check their folder each day: unfinished work organization made easy!
Subject area pockets: Teachers can also keep unfinished work organized with only one file folder storage chart. How? By using each pocket for a different subject area. Place any unfinished math work in the math file, and so on. Then, at the end of each day, or during a work time, teachers will grab each folder and pass out the work to be finished.
Tip: Use unfinished work as morning work.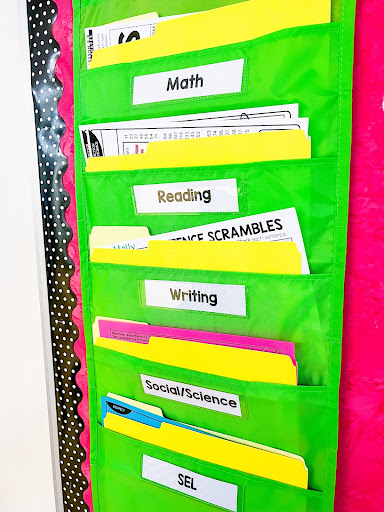 Rock Your Small Groups
Use a pocket for each of your small groups and store all the materials you need for the week. Put in all materials for the upcoming week on Friday, and rest easy over the weekend knowing you are organized and ready to go!
For more tips on small group organization, check out this blog post: Tools for Small Group Organization.

Organize by the Day
Making all copies for the week ahead allows teachers to breeze into their weekends. But, those piles of paper can quickly become classroom clutter. There is an easy solution! Use each pocket of the file folder storage chart as a day of the week. Everything you need for the day in one spot!
Use Venn Diagram Pocket Charts to Compare & Contrast Fairy Tales
There are TONS of elements to compare and contrast with fairy tales. The characters, story events, perspectives, and setting are often the biggest differences. There will be similarities too. Often the problem/solution and the main idea or central message will stay the same regardless of the version you read. Here's what to do:
Start by reading the traditional version of your favorite fairy tale aloud.
Take note of story elements on an anchor chart.
Next, read another version of the fairy tale and note those story elements.
From here, you can use the Venn Diagram pocket chart to compare the things about the two stories that were the same and different. A perfect visual of this tricky literary concept!
Display Math Comparisons
Give clarity to new math concepts by making them more visual using a Venn Diagram Chart! Here's a few examples:
2D and 3D Shapes: Print out pictures of the shapes (or real life objects) and place them in the Venn diagram, noting and discussing the similarities and differences.
Addition and Subtraction Word Problems: Read aloud examples of each type of problem, noting the similar and different wording. This can help students identify those addition or subtraction keywords.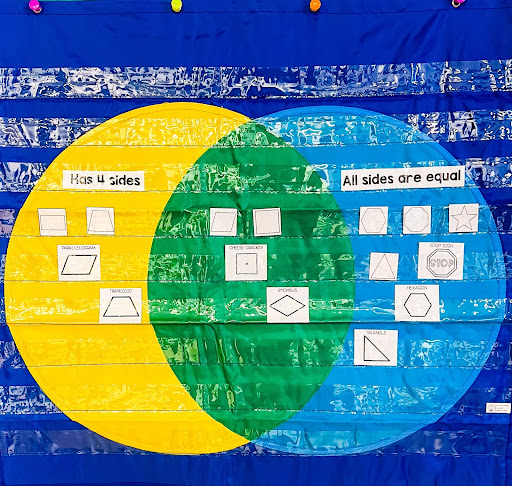 Use Your Pocket Chart for Morning Meeting Discussions
Incorporate the Venn diagram pocket chart into your morning meeting to show students how differing viewpoints can still be similar. An example of this would be:
Start your morning meeting with a discussion question, such as, "Would you rather go on a vacation to the beach or the mountains? Why?
Have students write their name on an index card and place their answer in the chart. If they cannot decide, they could place their card in the middle section.
Then, follow up by comparing the beach and mountains on the Venn diagram.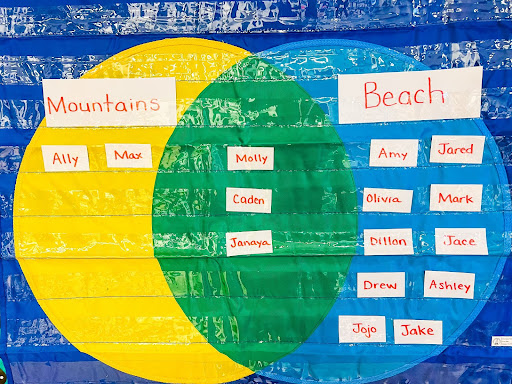 For more details on holding morning meeting discussions, go to this post: Morning Meeting Conversations.
Use Centers Pocket Charts to Store Classroom Library Materials
Add some variety to your classroom library that comes with instant storage solutions! This centers pocket chart is perfect for headphones, laminated poems, QR code story passages, and more.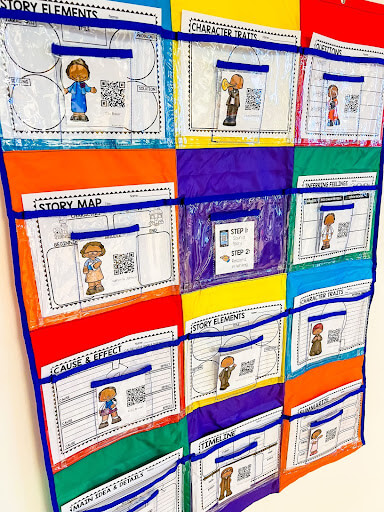 Store Small Group Intervention Tools
With 12 deep pockets, this chart is perfect for storing a variety of small group or individual intervention materials, such as:
Playdough for activities involving tap spelling, 2D shapes, and fractions
Partner games that target a specific skill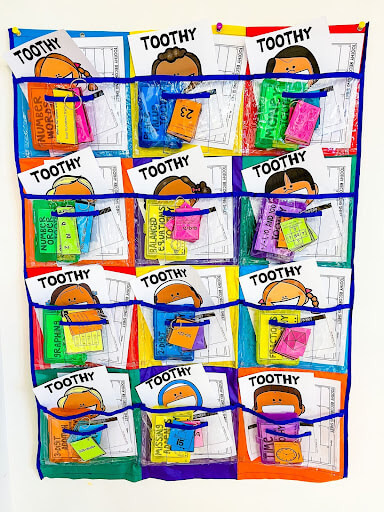 Miscellaneous Storage Ideas
With tons of classroom supplies, comes tons of storage needs. Check out some of these creative ways to store materials beyond the essentials:
Lost & Found: Whenever a stray pencil, paper, art project, folder, etc is found around the classroom, place it in the right pocket in the Lost & Found Chart. Then, when your student comes up to tell you they cannot find their new pencil from the book fair, viola! It is in the chart!
Student Rewards: Keep student rewards crisp and unwrinkled in the pockets. As a bonus, students may see the rewards through the clear pockets and work to attain them.
Reading Buddy Pockets: Having a weekly buddy reading time (within your class or with a buddy class) is a nice break from routine. It is engaging and encourages students to work on their reading expression. The materials for these weekly meetups would fit perfectly in the deep pockets. Plus, buddy names can be slipped into the front pocket.
Water Bottles: Keeping 2-3 water bottles per pocket may sound unconventional, but it keeps them off the countertops or floor!
Use a Red Pocket Chart for Paper Booklet Storage
Paper booklets are a common tool in elementary classrooms, thanks to their versatility! It's so easy to create printed decodable readers, interactive math review packets, science notebooks, themed journals, or even seasonal early finisher packets! Since most classrooms don't have the storage space for bins, this is where a vertical pocket chart definitely comes in handy!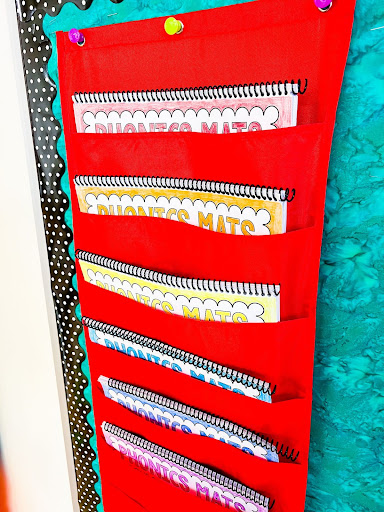 You'll be surprised how long all the paper booklets in your classroom will last with this easy storage solution!
Organize Frequently Needed Forms
Class lists, seating charts, behavior records, reminder notes, feedback forms, bus schedules, permission slips, sub plans, absent student work—it's head-spinning to think about all the forms teachers need to have on hand on any given day. So how to organize all the endless papers? Pocket charts!
Here are some examples of how you can use file folder pocket charts to store frequently needed forms: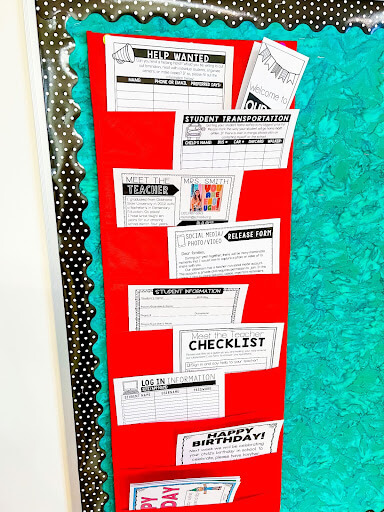 Which of these new pocket chart ideas will you try? You can browse a wide variety of classroom pocket charts to accomplish the different ideas above here! If you want more practical and easy to implement classroom ideas, check out our social media with constantly updated ideas and resources.
Lucky Little Learners is a team of master teachers who are passionate about helping K-2 educators create engaging and effective learning experiences for their students. We put our passion into action by creating & sharing high-quality, research-backed instructional resources. We also build and maintain a supportive and collaborative online community, because we know that together we are better. The Lucky Little Learners mission is to help teachers every day to feel more connected and empowered in their profession.