Posted by By Leigh Ann Pernell on Feb 22nd 2022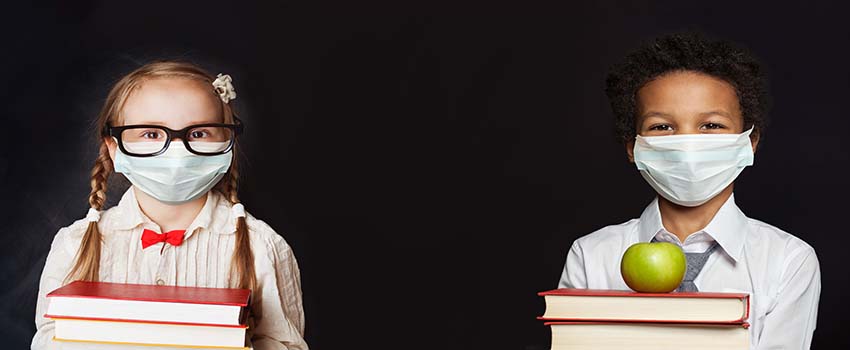 The current COVID landscape has definitely changed the climate of our classrooms. As we strive to stop the spread – we must remain socially distant – but that doesn't stop us from being socially interactive and inclusive. Even in the midst of this pandemic, we can build a strong classroom community where students are respected, ideas are valued, and learning is celebrated. Here are a few ways to cultivate a strong socially-distanced, yet socially responsive, community of learners:
Set Positive Classroom Expectations.
Yes, these are unprecedented times, but that shouldn't stop us from setting positive classroom expectations. Establish ground rules for the respect and well-being of one another. In-person learning is a privilege, and to keep learning alive, we must wear masks. We must also watch the space between classmates. Make sure to wash hands and sanitize surfaces to keep germs at bay. These 3 simple acts are not only effective ways to help slow the spread, but they are also ways to show respect and care for one another. Develop common language and post reminders to help students internalize responsible safe choices.
Cover your face.
Watch your space.
Wash the germs away from this place
Model Safe Practices.
To help our students develop a deeper understanding of safe practices, model responsible healthy choices. Role-play scenarios that will help students develop the ability to handle tricky situations. Mark out an example of a safe social distance. (Model and post what 6 feet of distance looks like.) Help students know and practice appropriate ways to remind a friend to cover their face and keep a safe space. A caring and cohesive class works together to keep everyone safe and learning.
Create an Inclusive Community Where Friends and Ideas are Valued.
We may be six feet apart, but we can still cultivate respectful social interaction. Our students need to know that our classrooms are places where they are physically safe and that their ideas and learning styles are valued. Effective communication is more than speaking, it also includes active listening. Purposefully model the keys to effective listening. Help students know that watching eyes, listening ears, still voices and bodies are all part of being active listeners. Everyone deserves a chance to share experiences, ask questions, and make connections that will enhance their learning. An inclusive classroom community celebrates and builds upon the learning of its members through healthy discussions. Quality discourse can take place even in the midst of a pandemic.
Be Flexible!
Regular classroom practices, the way we deliver instruction, and the way we share classroom tools and materials has all changed. Teachers and students need to stay flexible and give each other a little grace along the way. Share what is working in your classroom with colleagues. Be ready to tweak activities that don't work and learn from the lessons that don't come off as planned. Let your students know that we are all striving to navigate this COVID learning journey together. As a classroom community, we can celebrate our successes as a team and can work together to grow from our experiences.
Celebrate Learning!

COVID-19 has altered our way of life and has put a stop to many things. But it can not stop our students' natural curiosity or desire to learn. Although we may not be able to meet every benchmark or check-off every goal, we can celebrate the ongoing learning and positive progress that our students make socially, emotionally, and academically. Celebrate real-life learning—the kind that will last a lifetime.
It's a privilege to get back into our classrooms. Yes, we have some challenges. Yes, we must stay physically distant. But, we can still build classroom communities that are socially supportive places for young learners to thrive. Our students are naturally curious and creative and this pandemic has certainly provided us with opportunities to get our creative juices flowing. Physical distancing is an essential strategy for slowing the spread of COVID-19, and staying socially connected is an essential component of an effective classroom community that inspires and empowers young learners.