Posted by By Hallie Gebel on Feb 22nd 2022
As we leave October behind and enter the month of November, we can begin to see how quickly the holiday season is approaching. Do you remember when you first learned about Thanksgiving, the pilgrims, and giving thanks during your school years? It's a season of togetherness and warmth—connected with so much meaning. What makes this time of year even more special is when a teacher or parent can incorporate holiday-themed activities into kids' days and engage them with seasonal learning.
With Thanksgiving around the corner, we're setting the table with meaningful and fun activities for the classroom (or home!) that will inspire students to remember what they're most grateful for.
Gobble Up These Classroom Craft Ideas From Chad, The Male Kindergarten Teacher
The first craft idea involves red and yellow paint, small "turkey body" cut-outs, glue/tape, and a Thanksgiving poem. Students will place their hands in the paint to make their own handprint on the poem page. Then, after it dries, have them glue or tape the turkey body over the handprint so the handprint looks like the turkey's tail feathers. Feel free to use this poem as an example:
"This isn't just a turkey, as you can plainly see.
I made it with my hand, which is a part of me.
It comes with lots of love, especially to say...
I hope you have a very happy Thanksgiving Day!"
The second craft idea involves simple coffee filters, washable markers, and a spray bottle with water. Have students color on the filters with the markers, then help them spray the filters with water. Afterwards, wait for them to dry. Then attach a turkey cut-out to the dried filter for a fun and adorable art project that's just waiting to be featured on the fridge at home—or even your classroom bulletin board!
If you're interested in more great idea, follow Chad The Male Kindergarten Teacher on Instagram @malekindergartenteacher, or check out our Carson Dellosa - A Classroom to Be Thankful For YouTube Playlist with teachers from around the country!
More Fun DIY Thanksgiving Activities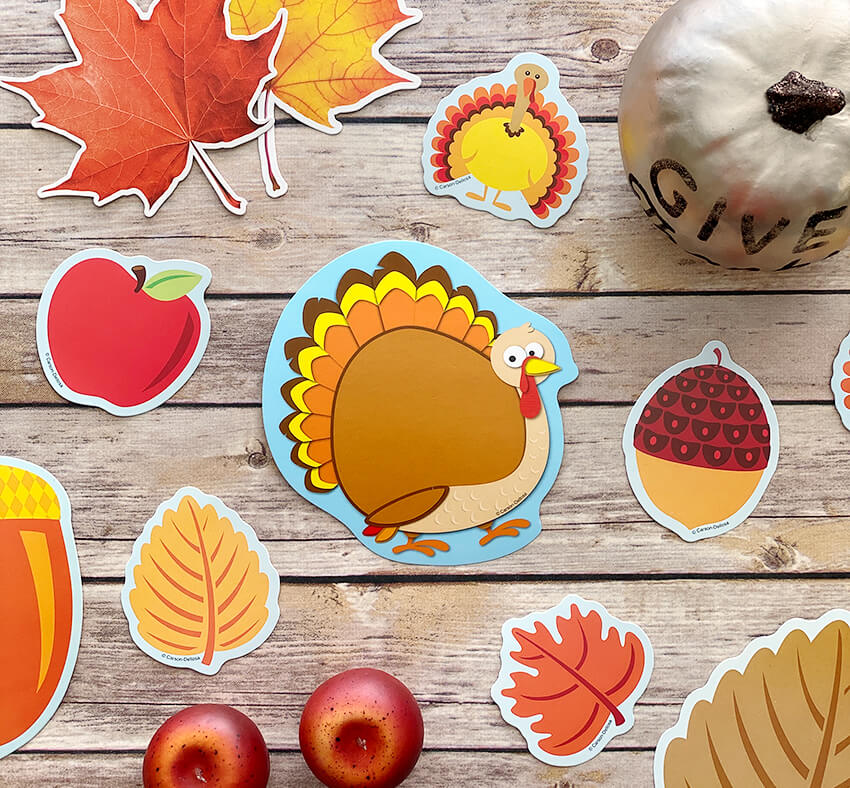 While Thanksgiving may be known more for its food and theme of giving thanks to loved ones, it's also a great time of year to participate in some fun DIY activities! Reinforce phonics and reading skills in young children by having them work together to create a class cookbook. Ask students what some of their favorite Thanksgiving foods are, and have them write down a simple recipe to share with their classmates. Compile all the recipes together into one book, and send each student home with a copy to share with their families!
Another great idea for a fun DIY activity is to have students make a turkey out of everyday household items! For example, create this cute toilet paper roll turkey by taking some googly eyes, glue, and a cardboard toilet paper roll to make the body. Afterwards, have children cut out construction paper feathers, write down what they are thankful for on each one, and attach them to the turkey to display to family and friends!
Decorate Your Space Just In Time For Turkey Day!
Shop our cornucopia of fall- and Thanksgiving-themed products ready to inspire and motivate students throughout the season. From cute cut-outs like our Fall Leaves Classroom Cut-Out Decorations, Fall Leaves & Acorns Cut-Outs, and Turkeys to Pumpkins Dazzle Stickers, Colored Leaves Scalloped Borders, and much more, we have tons of festive Thanksgiving classroom décor and teaching supplies.
Practice Gratitude With FREE Printables
Celebrate the start of the season of giving with fun (and free!) activities for the classroom or home. These free printables cover a variety of subjects while integrating Thanksgiving-themed food, activities to help develop friendships, and so much more to help supplement different topics. From coloring pages and word scrambles to puzzles and more, there is sure to be a free resource to accompany any Thanksgiving lesson plan lesson plan.
Thanksgiving is a time of year to show thanks and gratitude towards others for all they have done for us. It's also the perfect time to create a learning space that is accepting of others while still being a place for children to develop their education. Have a happy Thanksgiving, and don't get too stuffed!