By Casey Stewart on Jul 1st 2020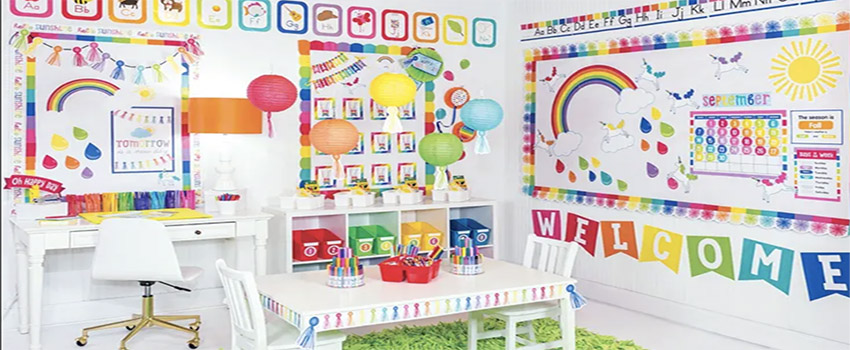 You may already have your classroom theme picked out, but what about seasonal décor? In this post, I will show you how to do just that—and don't worry, it's possible (and fun!) to decorate on a budget.
Here are five tips for adding seasonal classroom décor that coordinates with your favorite Schoolgirl Style and Carson Dellosa Education collections:
Tip #1: Create Neutral Backdrops that Coordinate with any Seasonal Classroom Décor
After I have decided on my classroom theme for the year, I like to create a few coordinating boards with neutral backgrounds. My top picks include black, wood grain, and blue backgrounds. You can use fabric or fadeless paper for your background. Fabric is more of an investment, but it lasts for years! Sticking with a neutral background will save you so much time from having to change your backdrop each time you switch your bulletin board.
Tip #2: Frame Your Display with Your Favorite Borders
Once you have your paper or fabric hung, it's time to add your favorite border combinations. You simply cannot go wrong pairing any of Schoolgirl Style's borders. Try layering two or three different borders to create the perfect frame. Here are some background and border combinations I have used in my classroom…
Tip #3: Use Student Creations for Seasonal Décor
So you might be thinking, "How are rainbow borders going to coordinate with a fall or winter craft?" If you have followed step one and two by combining a neutral background with your favorite borders, it can and will coordinate beautifully with ANY seasonal decor. Allow me to show you…
I believe that some of the best bulletin boards are student created. For each holiday and season, I have my pint-sized Picassos create purposeful writing pieces or math activities paired with custom crafts to match! Having students create the bulk of the seasonal décor gets everyone into the holiday spirit. It also gives your students a sense of pride and accomplishment seeing their hard work on display.
Below are some accents I used throughout the winter. The Rainbow Confetti EZ Letters helped me to throw my bulletin board up in no time flat. I used winter accents and the snowmen notepad for a Write the Room Center activity. I wrote sight words on the snowflakes and hid them throughout the classroom. My students traveled around the room with clipboards writing down the words they found. The kids loved it, and the best part was that it took me less than ten minutes to prepare!
Tip #5: Invest in Multi-Purpose Seasonal Classroom Décor
My final tip is to invest in seasonal classroom décor that you can use for more than one display. One of my all-time favorite products from Carson Dellosa is this Big Tree Bulletin Board Set from Schoolgirl Style's Woodland Whimsy Collection. I used this bulletin board set above my classroom library and changed it up each season with different accents and EZ Letters from Carson Dellosa.
Above all, I hope that this post has inspired you to try adding some seasonal décor in your classroom this year. If you're not sure where to begin, Carson Dellosa Education is here to help you with all of your decor and so much more. From classroom themes to seasonal scenes, they make decorating easy and affordable. Head to Carson Dellosa to begin designing the classroom of your dreams!