Posted by Dinah Zike, M.Ed. on Jan 17th 2019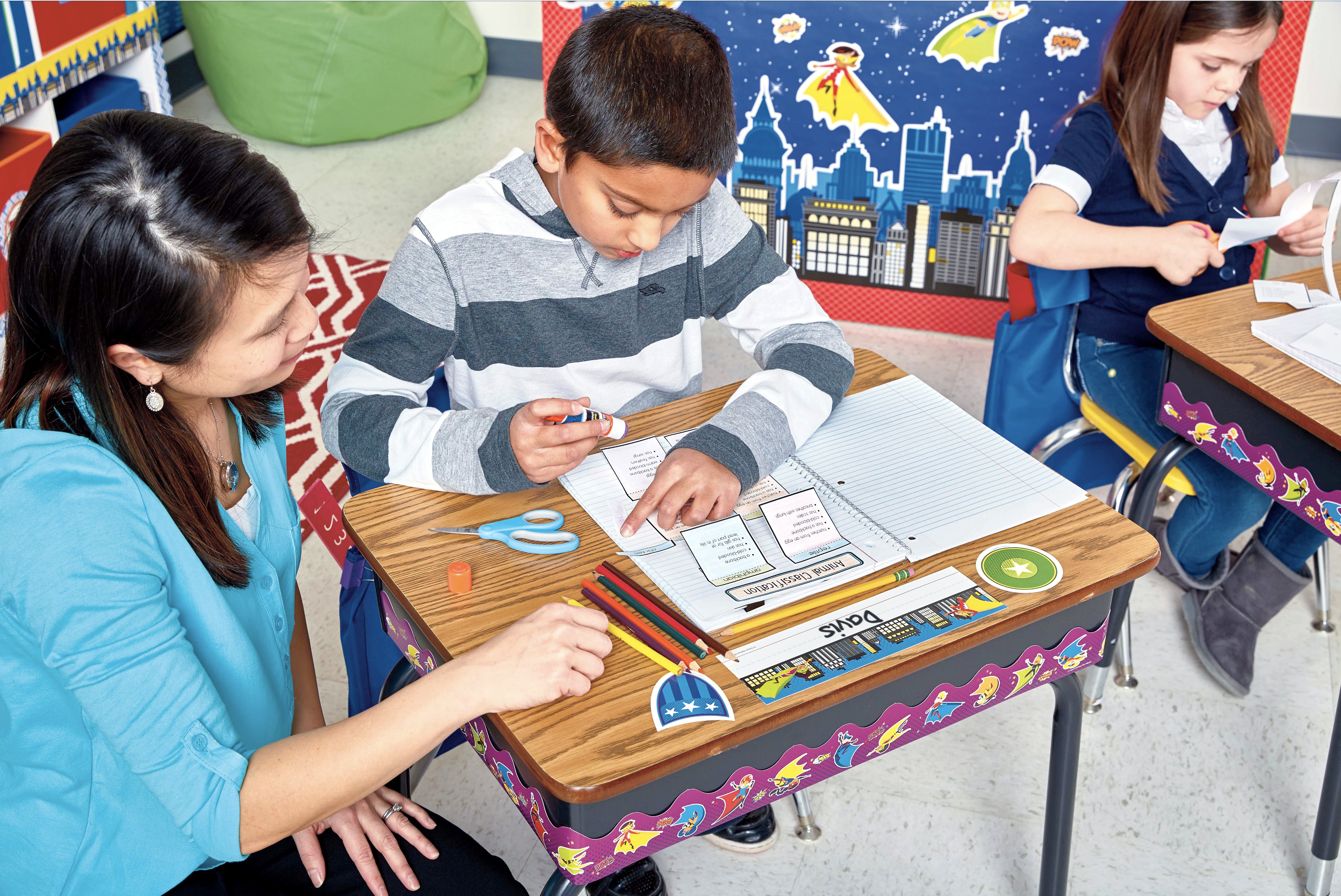 Notebooking is more than simply recording notes in a notebook—the notebook becomes the record of learning. Through the years, notebooking in many forms has proven effective for generating, collecting, and organizing activities for instruction, practice, and assessment. Notebooking also provides a venue for recording student observations, questions, and opinions while immersing students in academic vocabulary.
At the Dinah Zike Academy, we believe in incorporating kinesthetic actions into all learning formats, including notebooking. This means that most of the materials placed within a notebook can be opened and closed for self-checking, or manipulated to illustrate a concept or idea. We began the anchor tab method of adhering materials into notebooks to save paper, while turning nearly any type of printed or blank paper into a "hinged" activity.
Are you thinking about beginning notebooking or expanding your use of notebooks in your classroom? If so, we recommend that you begin with a personal experience. During our Academy notebooking classes, teachers create a notebook for themselves and we suggest all teachers do this, too, because a mock-up allows you to determine the following:
What is the purpose of the notebook?
What organizations tools will be used?
Table of Contents, Glossary, Pockets, Tabs?
What is an appropriate sequence of instruction?
Which standards will be covered?
What kinesthetic activities will be used? their size? format?
How will the pages look? Where will titles be written? Will there be page numbers?
How much blank space should be left for student interactions? Where?
Which worksheets will be folded and stored in pockets, or folded and glued onto a page?
What assessment tools will be included in the notebook?
and much more!
A teacher's master notebook can also be used to record notes during instruction. For example, you might record what did and did not work, how much time was required to complete an activity compared to how much time was allocated, and what future actions should be taken to make instruction stronger and more meaningful. If a master notebook seems daunting, begin by using these ideas for one chapter or unit of study in one subject area, or create a notebook for vocabulary development across subjects.
We believe that notebooking is a strong tool that works with all ages and grade levels. Giant spiraled-books of art paper can become classroom or station notebooks in Early Childhood programs. Using anchor tabs, student-generated sketches or crafted materials can be attached to the large pages of the "notebook" and student dictation can be recorded under these personal, meaningful tabs.
There are lots of effective notebooking tools and materials on the market. Visit my website: www.dinah.com for more information on our kinesthetic Notebooking Central resources and Academy sessions. Our friends here at Carson Dellosa have also developed wonderful notebooking tools that are conveniently organized by subject area and grade level. Each of the Carson Dellosa books on Interactive Notebook activities provide several pages of introductory material that is quite helpfulóbe sure you don't skip those!
Good luck with your notebooking adventure!
Over the last 45+ years, Dinah Zike, M. Ed., has invented hundreds of graphic organizers and educational manipulatives that are used all over the world by teachers, educational publishing companies and universities.
Dinah.com
Dinah Zike Academy